TSSA FEE CHANGES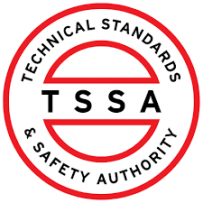 NEW PREDICTABLE FEES – EFFECTIVE: May 1, 2021
At the Technical Standards and Safety Authority (TSSA), we are improving our operations, launching new programs, and simplifying our fee structure as we transition to become an Outcome-Based Regulator. This organizational transformation has us focused on improving public safety in Ontario, building stronger partnerships, and reducing unnecessary burden on responsible businesses.
New Streamlined Fee Structure – Fair, Predictable and Efficient
As part of this effort, effective May 1, 2021, TSSA is introducing a streamlined fee structure that addresses customer concerns about the complexity of the current fee schedule, the unpredictable nature of inspection invoices, and the number of invoices received on an annual basis. Authorizations effective from May 1, 2021, will be invoiced according to the new fee structure. Renewal invoices will be sent out using the new fee schedule starting as early as March 2, 2021, for those renewing on May 1, 2021. Invoicing 60 days before each authorization renewal date is TSSA's standard practice.
Highlights of the new fee structure include:
Customers will be charged a fixed annual fee for licences, permits and registrations that will include all periodic inspections* and one follow-up inspection (where applicable).
There will no longer be invoices for routine periodic inspections* nor for the first follow-up inspection, if one is required.

The new flat fees are based on a five-year historical average of inspection hours for each category of device, business, or facility type.
Engineering applications will be pre-paid. The new fixed fee will include engineering reviews and associated inspection fees (where applicable*).
Additional fees will apply when customers require repeated follow-up inspections due to non-compliance.
Fees for exams and certificate holders, such as mechanics and technicians, will continue to be billed in the same way.
These changes have been informed by industry feedback.
Additional information is contained in our Frequently Asked Questions (FAQ) document.
SERVICE OFFERING
CURRENT BILL
FUTURE BILL
Authorizations

Licensing
Registration
Permits

Flat fee scaled by category includes all periodic inspections and one follow-up inspection (where applicable)
Prepaid

Engineering

Minimum fee and hourly billing
Invoiced after service performed

Flat or minimum fee includes engineering reviews, plus associated inspections (where applicable)
Prepaid

Inspections

Minimum fee and hourly billing
Invoiced after service performed

No more inspection invoices for periodic inspections*, and first follow-up inspection (where applicable). Routine inspections now included in Authorization Fee above.
Questions?
Please contact us if you have any questions.
Email: customerservices@tssa.org
Telephone: 1-877-682-8772
Story by: TSSA