Trump's first week in office: A recap of key decisions and how they could impact Canada
It's been a week since Donald Trump was sworn in as the 45th President of the United States. During his first seven days in office, Trump carried out many of his campaign pledges dealing with trade, pipelines and immigration.
Here's a recap of Trump's first week in the White House and how his first few decisions as President might impact Canada. 
MONDAY, JAN. 23: WITHDRAWAL FROM TPP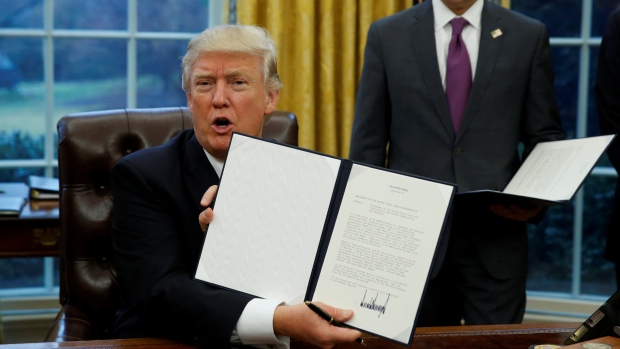 On his first official day in office, Trump signed an executive order withdrawing from the Trans-Pacific Partnership. Trump made it clear during his presidential election campaign that he opposed the TPP, an agreement that, if ratified, would allow free trade between a dozen countries surrounding the Pacific Rim, including Canada.
The final proposal for the TPP was signed on February 2016 in New Zealand, ending seven years of negotiations, but the deal will need to be ratified by at least six signatories that account for 85 per cent of the group's economic output by February 2018 in order to take effect. 
"Great thing for the American worker that we just did," Trump said as he signed a notice in the Oval Office.
One Canadian wheat producer expressed concern about the U.S.'s exit from TPP. Kevin Auch, chair of the Alberta Wheat Commission, told BNN Thursday that the decision was a missed opportunity and could "hurt market access."
"Right now we can negotiate bilateral agreements but those would be different rules between each and every country – or they could be," he said.
TUESDAY, JAN. 24: KEYSTONE XL REVIVAL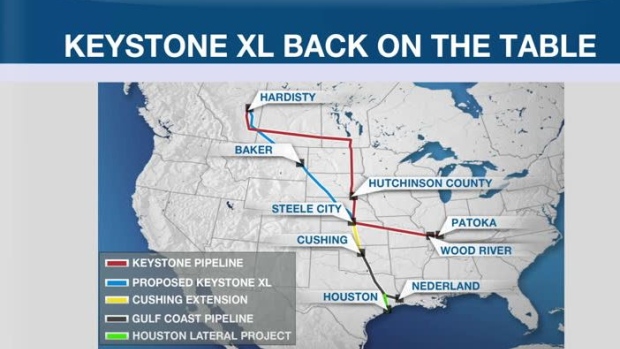 Trump revived the Keystone XL pipeline project on his second day at the White House, reversing former U.S. President Barack Obama's decision in November 2015 to deny the proposal. Trump also vowed to renegotiate the terms of the Keystone XL proposal to better benefit the United States and in a separate executive order, he demanded that all the pipe and steel used in the pipeline be made in the U.S.
While the project is not yet a done deal, Canada's Prime Minister Justin Trudeau expressed support for the decision later that day saying "it means economic growth and good jobs for Albertans."
The TransCanada pipeline would ship oil 1,900 kilometres from Alberta to Steele City, Neb., where it would connect with other lines leading to refineries along the U.S. Gulf Coast.
Trump also issued a memorandum to advance the Dakota Access oil pipeline, which was also halted by Obama.
TransCanada re-applied for the presidential permit Thursday needed in order for the project to proceed.
But even with presidential approval, TransCanada would need permits from other government agencies, including the U.S. Department of the Interior and the U.S. Army Corps of Engineers, to navigate federal waters and lands. Any of those permits could be legally challenged by opponents.
WEDNESDAY JAN.25: THE WALL
As he continued to stick to his campaign pledges, Trump signed an order to build a wall along the U.S.-Mexico border that he said Mexico would pay for.
Mexican President Enrique Pena Nieto responded the same day by saying his country would not pay for the wall.
THURSDAY JAN. 26: MEXICO CANCELS MEETING WITH TRUMP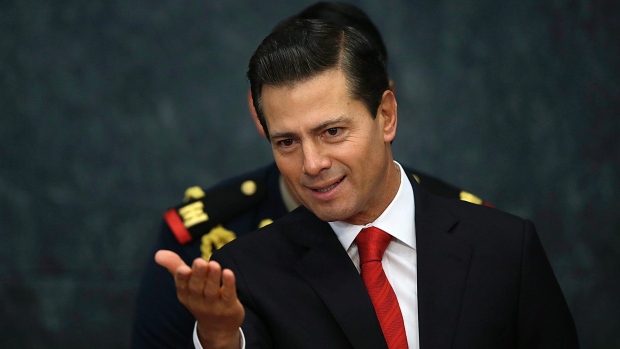 Pena Nieto announced he would cancel the scheduled Jan.31 meeting with Trump after the U.S. President said it would be a good idea not to meet if Mexico was unwilling to pay for the wall.
Later that day, Trump's Press Secretary Sean Spicer said Trump will seek a 20 per cent tax on imports from Mexico, which would help pay for the wall.
Andy Busch, political economist at andrewbusch.com, told BNN Thursday the cancellation of the meeting is symbolic of the problems the U.S. has Mexico, but also "shows Trump is not going to have the same problem with Prime Minister Trudeau" and added that "the U.S. doesn't really run a trade imbalance with Canada."
FRIDAY JAN. 27: TRUMP MEETS WITH THERESA MAY
Trump took to Twitter again on Friday to criticize the U.S.'s southern neighbour. He wrote: "Mexico is taking advantage of the U.S. long enough. Massive border deficits & little help on the very weak border tax must change, NOW!"
Trump also met with British Prime Minister Theresa May in Washington – his first face-to-face meeting with a foreign leader since becoming President. One of the topics discussed during their joint press conference was Russia sanctions. Trump said he wanted to maintain a good relationship with the country, but didn't say whether he'd lift any sanctions. May, on the other hand, said they needed to stay in place.
During the conference, Trump also confirmed he had a "very, very friendly call" with the Mexican President on Friday, a day after they scrapped their planned in-person meeting.  
– With files from Reuters