Trump trade barriers could slam Canadian economy: National Bank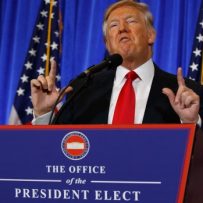 President-elect Donald Trump's threats to raise border taxes would hit Canadian exports hard – particularly in Ontario and New Brunswick – and result in slower economic growth for the entire country, National Bank warned in two new reports. 
Trump used protectionist rhetoric during the U.S. presidential election, and the head of his inaugural committee recently suggested the incoming president could raise tariffs on all imports to encourage more domestic production and reduce the U.S. trade deficit.
"As if an already-vulnerable global economy really needed this, trade protectionism could intensify this year," said Krishen Rangasamy, National Bank Senior Economist in a note.
While those measures would not impact Canada's exports of oil – they would have a huge impact on just about every other export, Rangasamy wrote. "Non-petroleum goods exports could sink almost 11 per cent based on U.S. import price elasticities, enough to cause Canada's total goods exports to the U.S. to drop roughly 9 per cent," he said.
National Bank expects Canada's GDP to grow 1.9 per cent in 2017 and 1.7 per cent in 2018, but that would drop if the U.S. raises trade barriers, Rangasamy said. "We acknowledge downside risks to those forecasts should U.S.-Canada trade relations or the global economy take a turn for the worse."
Ontario and New Brunswick are the two provinces most at risk from a rise in U.S. protectionism, said Warren Lovely, National Bank Managing Director and Head of Public Sector Research & Strategy in a separate report.  
"No province should be cheering the emergence of a more inwardly focused/protectionist U.S. administration, but for some, the successful diversification away from the U.S…..could significantly blunt the fallout," said Lovely.
Ontario and New Brunswick's reliance on auto sector exports, consumer good and softwood lumber puts them most at risk, he said. British Columbia, on the other hand, has already diversified its economy away from the U.S., and the prairie provinces' export commodities that would not be impacted by the potential tariffs.