Trudeau says 2019 Canada election is fight against polarization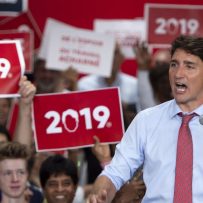 Justin Trudeau said the 2019 Canadian election will be a contrast between his Liberal Party's push for a cleaner environment and fighting inequality, and Conservatives who'll attempt to exploit divisions created by a global wave of populism.
The prime minister made the remarks late Sunday afternoon in his home district in Montreal, turning attention back to campaign politics a few days after he rejected the idea of calling an early election. Trudeau's Liberals have lost their earlier lead in public opinion polling, and are now essentially tied with the Conservatives led by Andrew Scheer.
Trudeau said Scheer hasn't moved the Conservatives beyond ideas voters rejected in the last election, when they were led by Stephen Harper, and would seek to divide voters over issues such as immigration and tax relief for lower-income families. Flanked by his wife and supporters holding red "2019" signs, Trudeau said the Conservatives "cherry pick" facts to sow negative views among voters, a trend Canada must resist.
"But unfortunately, even as my conviction in positive politics hasn't changed, our opponents' belief in the politics of fear and division hasn't changed either," Trudeau said in a speech that alternated between English and French. "Perhaps we can get the smiles of Andrew Scheer, but it remains the Conservative Party of Stephen Harper."
Immigration, Free Trade
Trudeau didn't cite specific nations that had embraced the kind of populism he's warning against. The 46-year-old swept to victory in 2015 by touting the benefits of immigration and free trade, even as U.S. and U.K. elected leaders have questioned such policies.
"Despite the polarization we see going on in the world around us — the populism, the politics of fear and division — staying positive, pulling people together, looking for ways to emphasize our common ground, our shared values among our differences, is the only way to build a stronger country, a stronger world," Trudeau said.
Under a federal law, Canada's next election is scheduled for October 2019. But a sitting government has some discretion to set another date under Canada's constitution. Trudeau rejected the idea of an early election on Aug. 16 when asked by reporters about a columnist who wrote that it would be a good idea.
Trudeau's remarks during his nomination meeting didn't lay out any new specific policy ideas. Instead, he revisited his commitment to gender equality, building "the economy of tomorrow," and protecting the environment.
"2019 is coming fast and I need your help," Trudeau said. "Together, let's continue what we started."