Trudeau denies report his office interfered in SNC-Lavalin case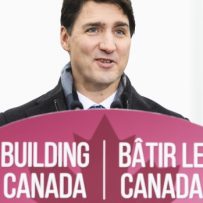 Justin Trudeau denied a report that members of his staff urged Canada's former justice minister to intervene in a legal case involving SNC-Lavalin Group Inc. (SNC.TO 0.54%)
"Neither the current nor the previous attorney general was ever directed by me or by anyone in my office to take a decision in this matter,'' the prime minister told reporters Thursday after a transit announcement in Vaughan, north of Toronto.
Officials in Trudeau's office tried to pressure Jody Wilson-Raybould into directing prosecutors to settle corruption charges against the Montreal-based construction and engineering company out of court, the Globe and Mail reported Thursday, citing unnamed sources. She resisted those efforts, the newspaper said.
Asked directly about the case, Trudeau said: "The allegations in the Globe story this morning are false."
Wilson-Raybould was shuffled out of the justice portfolio last month, with Trudeau naming her veterans affairs minister. She was replaced as attorney general by lawmaker David Lametti.