Tracking & Testing Your Ad Campaigns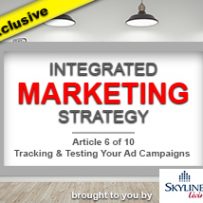 Story by: Sarah Rodrigues | Skyline Living
In June and July, I discussed how to create more effective online and print advertising. Of course, the only way to determine if an ad is effective or not is to track and measure the response to the campaign. There are many third-party options available for tracking leads, and most employ three similar strategies.
1.   Email Tracking
Email tracking is as simple as putting a different email address on different types of advertising, and collecting data about which email addresses receive the most traffic. You can use individual emails for very specific campaigns and a "standard" email for your regular ad traffic, assign a different email to every source of traffic, or use a third-party system to track where email traffic is coming from.
For example, if you are running ads on Kijiji, RentHello, and Gottarent, you can create three separate emails that all direct to the building staff or leasing agent. By counting how many emails came from each source, you can see which ads bring in the most traffic.
2.   URL Tracking
You probably don't want to build a new website for every ad campaign you run. Instead, simple URL redirects are a great way to measure campaign web traffic. Simply purchase a unique domain name for the campaign, and redirect that URL to your website. Basic web traffic analysis – most people use Google Analytics – will show how many people came to a website using the unique URL.
3.   Phone Tracking
This method of testing will require a third-party vendor that can provide you with multiple phone numbers. Assign a different phone number to each campaign or advertiser, and redirect them all to the building staff or leasing agent. The phone number provider will be able to provide you with statistics on how many prospects called which number.
Ideally, you'll be running some combination of these tracking methods for each campaign. For example in the chart below, this campaign is using Kijiji, Gottarent, and a magazine ad. Each has its own phone number and email address, and the magazine is using a unique URL. The chart clearly shows the magazine ads are driving the most traffic.
Remember, tracking ad response is only the first step. In order to determine if you should run a campaign again, you have to factor in cost per lead and conversion rates. If the magazine ad costs $1,500 for 50 leads, that's $30/lead, where Kijiji might only cost $5/lead. However, if 50% of the prospects from the magazine ad convert to leases, and only 10% of the Kijiji leads do, then the magazine ad may be worth the additional cost. You may also need to run certain types of ads to reach the "right" kind of tenant.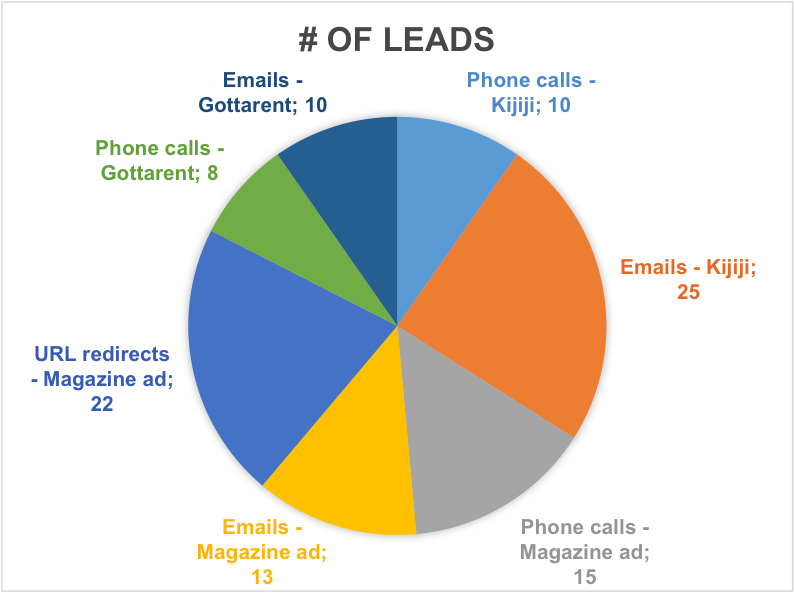 Testing
Once you are able to track ad campaigns, you can create different campaigns and test them to see which is more effective. You can test different slogans, concepts, incentives, or visuals and see which one gets the best response.
When you're testing, make sure you're comparing apples to apples. If you're trying to decide which incentive to run, don't change everything else about the ad, just change the incentive. That way you'll be able to accurately measure the response.
While you may be tempted to run an ad for the minimum commitment to save money, such as in one issue of a newspaper, you may not get any significant results. Consider publication dates, repetitions, time of year, and time of month when testing ads to ensure that money spent on testing is not going to waste.
In conclusion, there is essentially no point in running any ad campaign if you can't measure its effectiveness. Some advertisers will provide you with statistics (such as number of clicks), but gathering your own data is always a good idea if you have the resources to do so.
Next month, we'll move away from the more "traditional" marketing methods into customer experience and the importance of brand advocacy.
About the author: Sarah Rodrigues is the Marketing Coordinator for Skyline Living, a division of the Skyline Group of Companies, which operates 142 apartment communities in 46 cities across Ontario, Quebec, Alberta, and British Columbia. She has worked in communications, project management, advertising, and marketing in a number of industries. Feel free to connect with her on LinkedIn.