Torstar agrees to sell site of Star's shuttered printing plant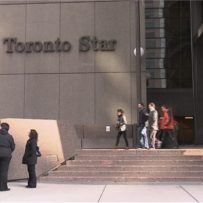 Publisher Torstar Corp (TSb.TO) said on Monday it had agreed to sell the land and buildings of the former printing plant of the Toronto Star for about $54.3 million.
The publisher of Canada's biggest-circulation daily newspaper did not disclose the buyers of the properties in Vaughan, Ontario.
Torstar has been trying to cut costs as it struggles with falling advertising revenue. It slashed its dividend twice this year, outsourced printing of the Star, and killed the print edition of a regional paper.
The company announced in January that it was closing the Toronto Star's printing plant in Vaughan, saying it planned to sell the 43-acre property.
The sale is expected to be completed late in the third quarter or early in the fourth quarter of 2016, Torstar said.