Toronto's vacancy rate at a 15-year low, experts call for purpose-built rental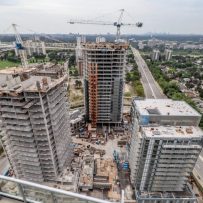 Toronto is seriously lacking in purpose-built rental, according to Scotiabank Senior Economist Adrienne Warren.
"For a large cohort of millennials establishing their own households, renting may be the only option if they choose to reside in Canada's highest-cost urban centres," writes Warren in a recent note. "In Toronto, the vacancy rate for purpose-built rentals fell to 1.4 per cent last year, the lowest level in 15 years."
The number of Canadian households choosing to rent has risen by almost 80,000 annually between 2011 and 2016, double the speed of the previous five years. Renting is outpacing home ownership for the first time since the 1970s.
According to the note, a 1.0 per cent decrease in the national homeownership rate would require roughly 140,000 new rental units to be added to the market.
Warren writes that while many Canadian cities appear to be keeping up with the rising demand for rental, Toronto is falling behind.
"Purpose-built rental construction in the GTA has picked up since 2014, but has added only marginally to the overall stock of rental units," she writes. "A total of 2,386 purpose-built rental units were completed last year, or just 3.8 units per 10,000 population."
According to Urbanation senior VP Shaun Hildebrand, Ontario's expanded rent control has had a cooling effect on purpose-built rental construction in the GTA.
Part of Ontario's 16-point Fair Housing Plan announced in April, virtually all rental units in the province are now subject to limits on annual rent increases.
A report commissioned by the Federation of Rental-housing Providers of Ontario found that 20,000 of more than 28,000 planned purpose built rental units in the GTA were under review as a result of the policy change, while more than 1,000 planned purpose-built rental units have been converted to condos since the provincial policy came into effect.
"While the supply pipeline for purpose-built rentals [in the GTA] increased from 10,000 units in early 2016 to almost 30,000 units by mid-2017, after rent control was announced, that levelled out," Hildebrand said in a recent episode of BuzzBuzzNews' weekly Facebook live broadcast.
Hildebrand said it was troubling to see a slowing of the purpose-built rental market, given the demand for rental housing in the GTA.
"For the first time in a long time we were seeing the supply pipeline moving in the right direction," he said. "Now I think we're going to see very low vacancy rates, a very notable gap between rental demand and supply, and at least a four-to-five per cent annual raise of rents."
Condo rentals make up 20 per cent of Toronto's rental stock. Hildebrand says that rent control will likely mean a levelling out of the condo rental market.
"For a condo investor, you're likely going to see your costs increase at a greater rate than your rent," he said. "The concern is that you're going to see investors choosing to sell their units quicker, which could have the effect of levelling out the number of condos available for rent, or even decreasing it."
This sentiment is echoed by Warren in her note. "The supply of condominium rentals is vulnerable to shifts in investor sentiment," she writes. "Units can be more easily converted back to owner-occupancy."
Warren's bottom line is that Toronto needs more purpose-built rental, and soon.
"For renting to be a viable and affordable option for a greater number of households, a further ramping up in the pace of rental construction is needed," she writes.