Toronto's residential land prices reach new highs: 'More condominiums coming'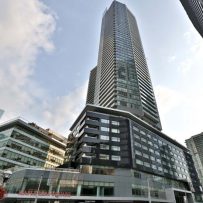 Story by: Garry Marr | Financial Post
Residential land prices reached new highs in Toronto in the second the quarter of 2015 as developers bet the housing boom will continue in Canada's largest city, according to a new survey.
"Not only were there some big transactions but we also had a record number of deals," said Richard Vilner, commercial real estate manager of RealNet Canada Inc. "There are a lot more condominiums coming, if you thought there was a slowdown there."
Residential land purchases accounted for 27 per cent of the $3.6 billion in property spending in the second quarter, beating out other classes like industrial, retail and office space.
There were a record 143 residential deals done in the quarter and more condominium development appears to be in Toronto's future with $420 million of the $856 million spent on high-rise development.
Prices of condo lots hit record highs, although the values were driven by some expensive deals, including a massive proposed tower in Yorkville, Toronto's priciest neighbourhood for real estate.
Vilner said the average condo lot sale price in the second quarter across the Greater Toronto Area reached $64 per buildable square foot, which accounts for the density of a project. Ten years ago that price was in the $30-range across the GTA.
"You might get a slowdown in condos compared to a time when you sold everything out in month, but they are still selling," Vilner said. "The land pricing is at record highs. You can't just find a bare parking lot (to build on), you have to assemble (land) and that costs more."
Brian Johnston, chief operating officer of Mattamy Homes, said current land prices are "eye popping," but the pricing continues to work. "Developers are flush with cash and they are investing," he said, adding that developers want to make sure they have land five to seven years from now.
To make prices work, Johnston said developers will continue to squeeze density wherever they can. "When I started, it would be four houses per acre, now it's eight or nine," he said.
Homebuilders are also able to support their price point by comparing their offerings to the existing home market where prices continue to soar. The average detached home in Toronto-proper climbed past $1.1 million this year and continues to grow, with suburban prices following.
The average sale price per acre for low-rise homes was $637,000, actually down slightly from a year ago. The lower number was driven in part by land acquisition for detached homes stretching farther into the suburbs, where it's cheaper.
The average sale price of low-rise land is expected to go up next quarter because of a massive transaction in Markham — considered relatively close to the city compared to other parts of the suburbs — where four local developers teamed up to pay $412 million for a golf course. The average price was $1.4 million per acre.
RealNet reported last month that the average sale price in June of a new low-rise home rose 15.5 per cent from a year ago to $785,500. Condo price increases have been rising more slowly, up one per cent from a year ago to $441,134, but that could be changing as land prices rise.
Bank of Montreal senior economist Robert Kavcic says the demographic trends in Toronto are running pretty close to what developers are constructing every year.
"I don't think it's a case of too much development. The story is more the composition," he said, pointing towards the shift to condos.