Toronto's rental market reborn as housing prices surge out of reach for many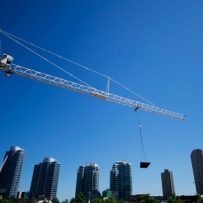 Story by: Katia Dmitrieva, Bloomberg News
The dreary six-story apartment block in Toronto's north end was nicknamed "Divorcee Towers" after the newly single who lodged at its short-stay units. Then Timbercreek Asset Management Inc. moved in.
Big banks boost condo financing even as unsold units in Toronto hit 21-year high
The Bank of Nova Scotia is among lenders boosting loans to condominium developers as regulators become less vocal about housing-market risk, according to Canada's third-biggest bank
The real estate investment company installed new hardwood floors, stainless steel appliances, energy efficient windows and preserved 1930s art-deco details such as a steel-cage elevator, boosting the rent to about the same as a modern downtown condominium.
Timbercreek is at the forefront of the next boom in Toronto's supercharged housing market: rental apartments. While the company specializes in renovating dilapidated buildings, at least 21 high-rise projects are slated to be built by developers as rental apartments in the city. Meanwhile, apartment real estate investment trusts are the best performing REITs on the Toronto Stock Exchange.
"There's a huge demand for rental," Ugo Bizzarri, managing director of portfolio management and investments at Toronto-based Timbercreek, said at Bloomberg's Toronto office. "We are seeing for the first time in 40 years people are starting to build rental."
Demand is growing for leased space as house prices surge out of reach for many, the condo market cools and investors seek stable returns in a low-interest rate world.
Rental REITs
Timbercreek is raising about $200 million for its fourth and largest real estate investment fund, which it will use to buy and renovate up to 20 buildings in Canada and then sell to pension funds. The closely held Toronto-based company manages $4.4 billion.
We are seeing for the first time in 40 years people are starting to build rental
The first Timbercreek Opportunity Fund, which invested in 766 apartment units worth $76 million, had an internal rate of return of 20%, according to the company. Its latest offering, the third Timbercreek Opportunity Fund, was started in April 2011 and has purchased 1,986 units valued at $186 million that are spread across major Canadian cities.
Other rental companies are also reaping the rewards of rising rental demand. Shares of Canadian Apartment Properties REIT, the country's largest apartment REIT by units, are up 11% this year, the best-performer on the Standard & Poor's/TSX Capped REIT Index.
Supply Constrained
The Toronto-based REIT is set to gain from "improving economic growth in Ontario, easing of migration outflows as Alberta's growth slows and an apartment market that remains supply constrained," Heather Kirk, an analyst at Bank of Montreal, said in a research note. Fourth-quarter rents for the firm rose in all major cities, according to financial documents.
There are 21 large rental projects under construction or in a planning phase in Toronto and its nearby regions, according to data compiled by Urbanation Inc., which tracks the city's condo and rental market. If completed, that would be the most erected in a decade, surpassing the 12 built in 2012, according to Canada Mortgage & Housing Corp. The federal agency data is for apartment buildings of 50 units or more dating back to 2005.
While a flood of new condos leased out by investors has helped fill demand for rental units, vacancy was 1.6% last year and has held under 2% since 2010, suggesting supply isn't catching up fast enough.
Rooftop Lounge
Projects in the works now range in size and location from the 23 story "66 Isabella" downtown with its own theater and rooftop lounge to a two-tower complex replacing aged townhouses with about 520 rental units midtown.
Home prices in Toronto, which have surged 60% from 2006 and gained 7% to an average $581,000 last year alone, according to the Canadian Real Estate Association, prompting people to hunt for cheaper alternatives. The average monthly rent for a 1-bedroom apartment unit rose 17% to $1,609 over the same period.
"Affordability is a big reason," for rising rental demand, said Sam Crignano, president of Cityzen Development Group in Toronto. "A lot of young people starting out don't have the down payment and so their only option is to rent."
Crignano, who's been building in the city for decades, is benefiting from investor demand. The developer was preparing to build The Selby, a 49-story red brick and glass condo tower, with Stephen Diamond, chief executive officer of Diamond Corp., up until last year.
'Do More'
Real estate agents sold 210 units worth $80 million, according to Insider Condo Club, the marketing firm that ran the sales event Nov. 15. It took just three hours to sell the units at a packed red-carpet event, where guests snacked on hors d'oeuvres and milled around a model tower.
A week later, Crignano and Diamond agreed to sell the site to an institutional investor who's planning to build it as a rental instead.
"We're probably going to do more of these," said Crignano, whose latest condo project is the 58-floor L-shaped tower designed by architect Daniel Libeskind. "As long as conditions remain the way they are, institutions will continue seeking out these types of investments."
Another reason companies are building rental towers is it's faster and more profitable as the condo market cools, Diamond said. It's taking longer to offload hundreds of units and it's more difficult to secure financing to start building.
And the city's developers can't raise condo prices like they used to. Prices for new high-rise units have leveled off since their 2011 peak, according to data compiled by RealNet Canada Inc., a Toronto-based real estate data provider. High-rise prices gained about 4% to $450,014 at the end of September 2014 from the prior year, the data show.
"Condo development is still cyclical and we're coming from an environment where you announced the project and you sold it out in two days and you just built it out," Corrado Russo, managing director of investments at Timbercreek, said in the interview last month. "We were going a little too fast and now this is a healthy pause to try and let the market catch up."
–With assistance from Eric Lam in Toronto.