Toronto's population expected to swell to nearly 6.7 million by 2025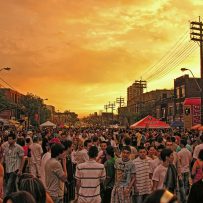 Story by: Monika Warzecha  |  BuzzBuzzHome
The streetcars are crammed with commuters in rush hour, Trinity Bellwoods Park is jam packed on warm days and swarms of shoppers descend on the Eaton Centre on weekends. There are pockets of Toronto that tend to feel more than a little bit crowded much of the time. But according to Bloomberg News, the city will feel even more densely crowded in the years to come.
A ranking of the "most crowded cities" looked at 40 urban areas around the globe. It listed cities where population growth within one generation (or between 1995 and 2025) was expected to reach 4.5 million, based on population per square mile. The ranking used numbers from Bloomberg's own data, Demographia, International Monetary Fund and the United Nations.
Toronto's metropolitan area ranked number 24 on the list when looking at density. It would see or 7,567 people per square mile in a city home to 6,682,061. Montreal's metropolitan area the only other Canadian city on the list, ranked one spot higher with 7,753 people per square mile, and a total population of 4,628,318 in 2025.
However, if you look at population growth in one generation, Toronto shoots past the Quebec City. Montreal would see a 40 per cent jump in one generation, while Toronto would see 59.2 per cent growth. Toronto would rank number 15 on the list of 40 when considering the percentage of population growth between 1995 and 2025.
As far as generational growth is concerned, Bloomberg listed Riyadh, Saudi Arabia in the top place with a 166.6 per cent surge, followed by Jiddah, Saudi Arabia (137.4 per cent) and Brasilia, Brazil (118.6 per cent).