TORONTO'S CONDO MARKET IS IN MORE TROUBLE THAN YOU THINK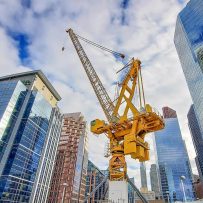 Real estate is a favourite topic of Ontarians, particularly those residing in the Greater Toronto and Hamilton Area. The ones who got into the market on its way up tend to pat themselves on the back for their decision-making savvy, while those left out have been calling for the bubble to burst for years, even decades. Now, it appears that those priced out of the market will soon have their moment — and that a deep correction of the industry is an inevitability. The pandemic has exposed vulnerabilities in the condo market, especially for investors who purchased units, converted them into short-term rentals, and listed them on such websites as Airbnb.
Long before the pandemic, Toronto's condo market showed signs of vulnerability, from falling windows to unsustainable community planning, and, yet, the boom continued. In 2008, the average price of a Toronto condo was approximately $295,000 (currently, it's $565,000). At first, the boom was fuelled by the growing population of new Canadians, students, and young professionals. Then came Airbnb. Over the past decade, it went from a simple way to earn some extra money from unused space to a thriving real estate sub-industry — a boom within a boom. Small-scale real-estate investors saw that automated short-term rentals were a simple, profitable way around Ontario's pro-tenant laws, and condo sales continued to skyrocket. According to a 2020 report from the advocacy group Fairbnb, if all Toronto home stock listed on short-term rental websites, such as Airbnb, were converted into long-term housing, the rental vacancy rate would increase from 1.3 per cent to a "healthier" 3 per cent, based on 2019 figures.
While the pandemic-induced collapse of Toronto's condo-turned-Airbnb market might have been bittersweet for its hotel industry — on the verge of its own implosion — it is mostly just bitter for local Airbnb hosts and their fallen "ghost hotel" empires. In the past, it's been tough to get a full read on what's really going on in the condo market; I suspect that's because developers, real-estate professionals, and even condo owners want to avoid publicizing its glaring issues, thereby dragging down valuations.
Now, though, the issues facing the market are becoming too big to ignore. Just last week, several realtors in my own circle confirmed that they're being swamped by panicked buyers looking to offload their units or find long-term renters. This week, another sign of more than just "weakness" in the market came to light: according to local realtors, the number of assignments (the right to purchase a pre-construction condo from its previous owner) has soared since the impacts of COVID-19 have settled in. While there are no exact numbers, it's estimated that almost 50 per cent of pre-construction condo sales are as investments. In a time of declining rents, condo dwellers fleeing the city, a disrupted Airbnb market, and halted immigration and tourism, it's no surprise that many would-be condo investors now want out of their contracts.
For years, the city has been working toward a fair resolution that would keep the hospitality industry, landlords, tenants, and Airbnb operators happy: in September, a new set of stricter short-term rental bylaws came into effect. While the timing is convenient, as it's more difficult to blame a market already decimated by COVID-19 on newly created municipal law, these regulations offer hope to already-squeezed long-term renters. As of September 3, people are allowed to rent out only a part of their primary residence on short-term-rental websites. This effectively prevents would-be real-estate moguls from purchasing or renting out several properties and then listing them on such sites. Since September 10, anyone wanting to list up to three rooms in their primary residence — or the primary residence in its entirety — has to register with the city first. Those who already operate short-term rentals or plan to do so must register by December 31.
This new legislation, combined with the second wave of the coronavirus, will surely exacerbate the devastating impacts of the first wave — and could push the condo market over the edge. In pre-second-wave September, the number of downtown condos listed for sale had already increased 215 per cent. And when there is more supply than demand, prices fall. At first glance, the data may seem to show that condo prices are increasing year over year. However, condo prices, particularly for those under 500 square feet, are now showing a decline when measured month over month. Plus, housing-market experts say that a glut of inventory is the first sign of an impending price "correction."
For a while, Toronto's booming condo market seemed unstoppable: the average price almost doubled in just 12 years. This appetite for condos meant that proper planning, both at the design and urban levels, was farther down on the priority list, leading to problems that still couldn't stop this runaway market. It took the one-two punch of regulating the short-term rental market and the pandemic to finally slow it down. They say that the bigger the bubble, the bigger the bust — based on the concerns being expressed by real-estate agents and investors alike, I'd wager that we are due for a massive correction.
Story by: TVO