TORONTO TENANTS UNIONIZE TO DEMAND RENT RELIEF IN THE FACE OF LOOMING PANDEMIC EVICTIONS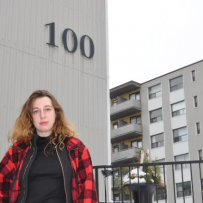 Inside an apartment building in Toronto's East York neighbourhood, residents passed by each other while doing the laundry or taking out the garbage, taking care to avoid possible transmission of COVID-19.
But they shared stories nonetheless, says resident Carly Tisdall, of feeling pressured by their property management to continue paying rent — even as the pandemic and lockdown measures took a toll on their bank accounts.
"People started phoning the company manager in March to basically ask, like, 'Hey, I'm struggling with rent. I don't know what I'm going to do with my family. We need to feed the children with groceries first before we can pay our rent. Please, what can we do?'" Tisdall, a freelance artist and actor, told The Doc Project.
Once these efforts proved largely unfruitful, Tisdall and her neighbours — many of whom didn't know each other by name until now — formed the Goodwood Park Tenants Union, to better support each other.
Over the last year, a growing number of renters have formed grassroots tenant unions to collectively speak up against landlords and stave off the threat of possible evictions.
The movement sparked some protests in Toronto last summer, including one in July when hundreds of union members and other advocates gathered outside Mayor John Tory's home. Some of those protesters clashed with police.
"These are people who have never been involved in political canvassing or volunteered for a campaign," said Tisdall.
"But … this was like: 'You have pushed me to the edge of the cliff and I either fall off or I turn around and fight.'"
Chief among the tenant unions' demands are a stay on evictions for the duration of the COVID-19 pandemic, an end to above-guideline increases to monthly rent, and a willingness from landlords to discuss rent relief — forgiving part or all of the unpaid rent that has tallied up while tenants were unable to work.
Tisdall says her landlord Ranee Management — a large company that owns over 30 properties across the Greater Toronto Area — has "consistently refused" to discuss any of her union's demands. The company did not respond to The Doc Project's request for an interview or comment.
Eviction threat looms, despite moratoriums
Tisdall began to feel the squeeze as work dried up early last year. Many of her neighbours in Goodwood Park, an apartment complex comprising five buildings and over 600 units, had similar stories.
"People were getting laid off just left, right and centre. Or people were getting told it was temporary leave, which then in a couple months would just turn to actual layoffs," she said.
The area is home to recent immigrants, lower-income families and front-line workers in essential services and businesses. It's also become a COVID hotspot, with some of the highest rates in the city.
By early April, Tisdall says she received a note from Ranee Management recommending residents explore using government subsidies such as the Canadian Emergency Response Benefit to help their financial situations.
But factoring in her rent, groceries and other expenses, she says she wouldn't be able to make ends meet with the benefits.
"[Then], my wisdom teeth decided to start coming through, which is delightful and perfectly timed," she remarked sardonically.
In March, the Ontario government enacted a moratorium on forced evictions. It wasn't lifted until that August.
However, Tisdall says she received an N4 notice from her landlord in May — informing her that if she didn't pay her rent, she could be taken to the Landlord and Tenant Board (LTB), an adjudicator that can ultimately decide whether a tenant can stay, or be evicted.
From eviction notices to unattended maintenance or repairs, the Goodwood Park union tries to hold regular weekly meetings.
"It's a group that sort of responds to the needs of the building," Tisdall explained.
But Ranee has refused to negotiate with the union as a body, she said.
"It was very explicit from the start: We do not want to deal with you as a group. We were going to keep this individual."
In a letter sent to Goodwood Park residents on Oct. 19, Ranee said they "appreciate and respect" tenants' choice to exercise their "right to peaceful assembly," but maintained its position to only work with residents "on a case-by-case basis" regarding outstanding rent payments.
Tony Irwin, president and CEO of the Ontario Federation of Rental Housing Providers, isn't surprised by that position.
"I don't believe it's something that they're interested in undertaking," said Irwin, whose group advocates for small business landlords, but also management companies as large as Ranee or Pinewood.
"Especially when the sort of corollary activity of that is aggressive protesting, in ways that I don't believe is really consistent with wanting to, you know, have thoughtful discussions about things," he added, citing the clashes outside Tory's condo as particularly "concerning … type of activity."
Goodwood and other tenant unions continue to advocate being allowed to negotiate with landlords as a unit, making the case at an LTB process hearing as recently as last week.
'I was in a panic'
Only a few minutes' drive from Goodwood Park, residents of the Crescent Town apartments faced a similar fate.
In early April, a property manager for Pinedale Properties — another large landlord company — knocked on tenants' doors holding a debit machine demanding rent payments, according to resident Zinnat Jahan.
"She was very rude, I must say. She was saying: 'Why you are here is not our concern. You have to pay rent,'" she said.
Bristling at the apparent intimidation, Jahan and her neighbours formed the Crescent Town Tenants Union.
In an email, Pinedale Properties told The Doc Project the manager's comments to Jahan were inappropriate, and ordered an end to door-to-door requests for rent payments.
Jahan moved to Crescent Town with her husband in 2017 to make a living, and help send money to their family — including two daughters — in Bangladesh.
But tragedy struck when her husband died of cancer in January 2020. Jahan was working the night shift at a McDonald's, but was laid off early into the pandemic.
Her savings quickly dried up, leaving her unable to pay her rent by April. An N4 notice arrived in the first week of May — and a date with the LTB loomed.
"I was in a panic," she said.
In a separate email, Pinedale said the "large majority" of its residents' cases forwarded to the LTB were resolved and withdrawn from the board before adjudication could be made.
"The reality is simply that for a small number of residents it sometimes takes filing a case to focus their attention on addressing their outstanding rent," Pinedale continued.
Repayment plans vs. rent relief
Landlord companies like Ranee and Pinedale have offered tenants the option to enter a repayment plan, which would keep track of the rent they missed, to be paid back later.
Advocates have raised concerns that vulnerable tenants could be pressured into signing unreasonable plans and end up being evicted anyway if they aren't able to make their payments.
Tenant unions have floated rent relief as a better alternative to repayment plans, which defers the money owed to a later date.
Tisdall knows it's an extraordinary ask. But in the context of a pandemic, it only seems fair.
"I have to take a job loss, a pay cut, hours cut. Other industries have to close, to shut down. They have to accept losses. But my landlord is still expecting the exact same amount of rent, the exact same profit on the investment as any other time," she said.
Iwrin says that he's spoken to many landlords who say they are doing everything they can to avoid handing out eviction notices — but that by and large, they are on the hook for their own expenses, like hydro bills and property taxes, just as tenants are on the hook for their rent.
A representative from the Ontario government's Ministry of Municipal Affairs and Housing noted to The Doc Project that it has frozen rent increases for 2021. It also flagged city-run rent banks that can offer some tenants loans to pay their rent. But it did not acknowledge questions about the possibility of rent relief.
Irwin says he wrote to the ministry multiple times last year to suggest a program where renters and landlords could pay a portion of tenants' arrears — a quarter, he offered for example — with the government paying the rest. He says those conversations are ongoing with the government.
Ire over online eviction hearings
The Ontario government recently passed Bill 184, the Protecting Tenants and Strengthening Community Housing Act, which it said protects tenants, while cutting through some of the backlog of hearings at the LTB.
Tenant unions and advocates said it instead makes evictions easier, thanks to a detail that allows landlords to skip LTB hearings entirely if the tenant fails to pay their rent as arranged by a repayment plan.
During Ontario's first evictions moratorium, LTB hearings were put on hold, leading to a flood of scheduled hearings once they resumed virtually in November.
According to data provided by the LTB, the board scheduled 17,693 evictions-related hearings from August to December 2020. More than half of them were scheduled in November and December; a total of 768 of these hearings were adjourned for another time.
Attendees described technical and connectivity difficulties, which for some were further compounded by a lack of high-speed internet connection.
Many of those hearings were organized into "five-minute mass-eviction blocks," according to Sima Atri, a lawyer and co-director at the Community Justice Collective.
The collective has represented Tisdall, Jahan and about 40 other Goodwood and Crescent Town residents.
If anyone came prepared with a detailed argument, they were simply adjourned for a future date, she added.
'The culture has changed,' says union member
Both Tisdall and Jahan's LTB hearings in November were adjourned. They're currently waiting for their new dates.
A second evictions moratorium was enacted in mid-January, but this time LTB hearings have been allowed to continue.
The Ontario NDP last week called on the government to prohibit all residential evictions until the end of the pandemic.
The current eviction moratorium was tied to the most recent stay-at-home order, and would similarly be lifted once that order ends.
Tisdall and Jahan are currently paying some of their rent through a repayment plan they arranged with Atri — but not their landlords. Work remains precarious for both of them.
Tisdall worries about a spike in evictions if people who have entered repayment plans default if they're still unable to find work.
Jahan says she's applying for jobs every day, but hasn't found any steady work. What she has found is some reassurance, after making meaningful connections with neighbours through the tenant union.
"We know that together we are stronger," she said. "Whatever we will do, we will do together. We will support each other, defend each other, no matter what."
Story by: CBC