TORONTO SEES DRAMATIC SPIKE IN LANDLORDS EVICTING TENANTS TO MOVE IN THEMSELVES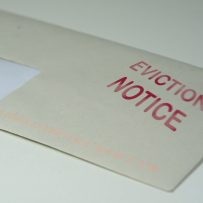 We are getting progressively further away from a time when rent prices in Toronto could be considered affordable, and along with the pressure that high mortgage rates, record immigration numbers and the proliferation of Airbnbs are putting on the rental market, more landlords are evicting tenants to move in themselves — or so they say on paper.
An N12 eviction, or eviction for personal use, is reserved for landlords who want or need to move into their own unit or to move a family member, such as a parent or child, onto the property.
While homeowners are (and, of course, should be) very well within their rights to go the N12 route, there is the chance that, much like "renovictions," some might use the tool in bad faith so that they can secure a new tenant at a higher price point without being subject to rent increase guidelines.
According to data from the Landlord and Tenant Board (LTB) examined by the CBC this week, the number of N12 applications fiercely spiked 77% in the first nine months of 2023 compared to the same period in 2022, which is causing concern among housing advocates who worry this move is increasingly being made for purely strategic reasons.
A tenant is quite easy to evict with an N12 — a landlord must declare at a hearing an "intent" for themselves or a close family member to move in "within a reasonable time" from the date of eviction and consistently occupy the unit for at least a year.
If a tenant is booted for this reason only to see their former unit left vacant, given to a non-family member of the landlord, or listed at a higher price online, they can submit a notice to the LTB and start a fight that could take months and will only, at best, result in them moving back into the same unit under a landlord they will now have heightened tensions with.
Assuming most are not willing or able to take on this battle, average rents in an area can increase more as a result (that is, if more bad-faith evictions are indeed happening).
As of last month, one-bedroom units in the GTA have risen to around $2,600 per month, two-bedrooms have hit an average of about $3,400, and a private bedroom in a shared apartment will run you upwards of $1,300.
Meanwhile, interest rate hikes have left some homeowners unable to cover their mortgage, spurring them to find ways to rent out more of their property and/or increase what they charge.
There is also one benign factor that could be at play in this climbing rate of N12 evictions in the city — people truly having to move into their unit themselves to avoid paying rent or a mortgage elsewhere or housing a family member who is having a tough time making ends meet in this economy.
The maximum a landlord can increase the rent for a tenant in Ontario is 2.5% for both this year and next, which is below the current rate of inflation.
Apartments that were first occupied after November 15, 2018, are not subject to this limit, and the same goes for vacant units, community housing, long-term care homes and commercial properties.
A new bill that passed this summer but is not yet in practice will put a firm deadline on the "reasonable time" that a landlord or their loved one needs to move in after an N12 while also increasing the maximum penalty for bogus evictions to a whopping $100,000.
Story by: Daily Hive