Toronto rental boom drives record-breaking sales in apartments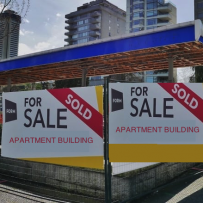 Rising rents across Toronto led to record-breaking sales for multi-residential apartment buildings in the third quarter, according to a report released Friday by commercial real estate firm Avison Young Canada Inc.
Demand for other commercial real estate assets continued to outstrip supply, the report said. Investors racked up more than $4 billion worth of deals in the third quarter.
"Buyers looked to take advantage of record-low vacancy and rising rental rates across most asset types — all amid elevated asset values and the prospect of higher interest rates," Bill Argeropoulos, principal and practice leader of Canada research at Avison Young, said by email.
Key Insights
-Multi-residential apartment sales reached $1.2 billion in the third quarter, taking the largest chunk of commercial deals. This was largely due to a big portfolio deal that saw more than 3,100 units being sold to two different buyers
-The strong performance raised sales over the three quarters to $2.1 billion, nearly double the investment during the same period in 2017 and more than any previous full-year sales performance
-Overall, commercial sales, which includes offices, apartments, and industrial were up 3 per cent from the second quarter
-Commercial real estate investment over the past three quarters reached $12.3 billion, up 10 per cent from last year
-Investors bought $919 million worth of industrial assets in the third quarter, the highest out of all quarters this year
-Third-quarter office sales jumped 25 per cent compared with the second quarter to $888 million; Investor appetite remained largely focused in the suburbs
-Retail investors continue to be cautious and selective. The sector saw $572 million worth of sales in the quarter and $1.9 billion in the first nine months of 2018
-Timbercreek was the largest buyer of retail assets in the third quarter