Toronto rent hikes are not as 'outrageous' as reports suggest, new survey reveals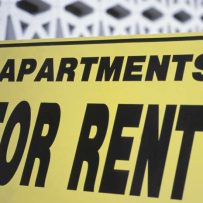 A survey out Wednesday shows apartment rents continue to rise in Canada's largest cities but the pace is slowing down from the end of 2016 — a development that comes as Ontario moves closer to new rent control regulations.
Urbanation Inc., a condo research firm in the Greater Toronto Area, said the average rent on a per square basis was $2.75 in the first quarter, up 8.3 per cent from a year ago. In the fourth quarter rents climbed 11.6 per cent on a year-over-year basis to $2.77 per square foot.
"Rent growth isn't as outrageous as suggested by a couple of isolated instances reported recently where tenants saw their rents double," said Shaun Hildebrand, senior vice-president. "The market is self-governing, and rent controls are not necessarily justified. If enacted, it will likely cause proposals to stall, greatly impacting supply growth down the road when it will be needed most."
The province continues to consider possible changes to rent control rules, specifically an exemption that allows landlords of buildings constructed after 1991 to charge whatever rent they want.
"I think landlords have come to the reality that some change is coming and now the issue is what can they tolerate," said an industry source, who asked not to be identified.
One policy change under consideration is a "rolling exemption" for the existing stock of apartment buildings built after 1991. New apartment buildings would have approximately 20 years of no rent control and then be subject to guidelines, said the source.
Those post-1991 buildings would also be allowed to charge more than rate of inflation for increases. Pre-1991 buildings are stuck with increases based on inflation only, about 1.5 per cent per year and the new builders would get a bonus above and beyond that percentage, said sources.
"There's no reason we can't have two policies (for rent increases)," said another source. "We already have that in place."
Urbanation said the average monthly rent was $1,993 in the first quarter, about the same as the previous quarter.
Excluding the impact of new units, the company said annual rent growth was 5.5 per cent, down from 6.8 per cent in four quarter of 2016. Over the past five years, rents have grown by an average of 2.3 per cent annually.
"An improvement in condo supply growth alleviated some of the recent pressure on rents," said Urbanation.
There were 11,315 completed condo apartments that closed during the past six months, a 33 increase from a year ago. That supply helped stabilize the market which has seen the turnover of existing units decline.
The ratio of leases-to-listings was 77 per cent in the first quarter, down from 78 per cent a year earlier. The average days on market increased to 20 in the first quarter from 13 in the fourth quarter while the percentage of units that were leased for above asking rents declined to nine period from 17 per cent during the same period.
"Although the rental market remained undersupplied in the first quarter, market forces worked together to temper rent increases," said Hildebrand.

"A return to previous highs for condo deliveries and a rise in purpose-built rental completions are expected to keep a lid on rent growth over the next few years. However, without more meaningful growth in purpose-built rental construction, even greater supply shortages will likely emerge in the post-2019 period."
Financial Post
gmarr@postmedia.com
twitter.com/dustywallet