Toronto Mayor Tory denies Hydro One is in talks to buy Toronto Hydro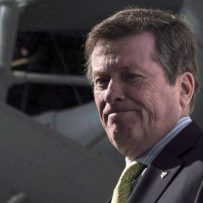 Story by: John Tilak, Reuters
Toronto Mayor John Tory denied Hydro One Ltd is in talks to buy municipal electricity distributor Toronto Hydro Corp for about $3 billion.
"I can confirm that no discussions are taking place with respect to the sale of Toronto Hydro to anyone," Tory said in an emailed statement.
Reports of the sale surfaced Friday. Reuters sources report the city of Toronto is exploring options to finance various infrastructure projects.
The two companies have been in discussions about the deal for the past few months but the talks have not entered final stages, one of the people said. They cautioned the talks could fall apart. The combined company could generate potential synergies of about $1 billion, the people added.
The city of Toronto, which owns 100 per cent of Toronto Hydro, is also exploring other ways to monetize its assets, including by publicly listing Toronto Hydro, as well as by selling its Green P parking business or other real estate assets, one of the people added. The Green P parking asset, which includes a popular app, is likely worth more than $1 billion, that person said.
Canada's most populous city needs a massive infrastructure upgrade to meet the growing demands of residents. But the city has struggled to raise sufficient funds to finance its rail and road networks.
Toronto Hydro has also been under financial pressure as it attempts to make infrastructure investments surrounding its electricity grid. Last November, it cut its dividend to the city of Toronto.
A deal would also help Hydro One's growth ambitions as a public company after it raised $1.8 billion in one of Canada's biggest IPOs in 2015. Hydro One, backed by the province of Ontario, has a market value of $14 billion.
Under one proposal, Hydro One would pay about half the deal value in cash and the rest in stock, one of the people said. A cash-and-stock transaction with Hydro One would allow the city to benefit from Hydro One's dividend as well, the people said.
Spokesmen for Hydro One and Toronto Hydro declined to comment. The people declined to be identified as the talks are confidential.
The discussions involve Toronto Hydro Chief Executive Anthony Haines, Hydro One CEO Mayo Schmidt, Ontario Premier Kathleen Wynne and Mayor Tory, one of the people said.
While the talks are making progress, a successful deal faces significant hurdles as it requires approval of the city council. It would also have to overcome potential opposition from unions.