Toronto Mayor John Tory says he's open to sale of some of city's 6,976 real estate assets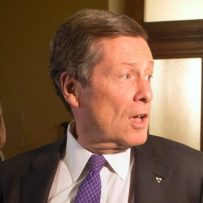 Toronto's mayor won't rule out selling some of the city's prime downtown real estate as he looks to make better use of assets amid an unprecedented property boom.
"Would I take that off the table? No, I wouldn't," Mayor John Tory said in an interview last week at Bloomberg's Toronto office. Selling buildings in the city's costly downtown market probably wouldn't be "quite as politically charged" as divesting other types of assets, such as the parking authority or power utility Toronto Hydro, he said.
The need for North America's fourth-largest city to fund critical transit upgrades and housing improvements coincides with skyrocketing property prices in the region. Toronto's real estate portfolio includes 6,976 buildings with 106.3 million square feet (9.9 million square meters), almost half of which is multifamily, according to a Dec. 6 report on the city's assets.
With all of the demands on the city to raise money for building transit lines and repairing existing housing, then "might you be looking at the business case for handling real estate in a different way? Because this is the most expensive downtown real estate you could possibly have," said the mayor, elected in 2014.
The report, commissioned by the city and conducted by Deloitte LLP, estimates the value of municipal real estate including community housing, parks and forestry is $27 billion, while the annual operating costs in "core" real estate and facilities management is $1.1 billion.
'Crystallize' Value
Tory said he watched with passing interest the federal government's sale earlier this year of the Dominion Public Building. The historic downtown property beside Toronto's Union Station sold for about $275 million, according to newspaper reports.
The property was "super underutilized," BMO analyst Heather Kirk said in an interview, adding the Canadian government has been trying to find ways to "crystallize" the value in some of its property assets.
"What a building is worth to the government in current form is totally different than the value to a developer," Kirk said. "They are buying density."
When asked how any properties might be sold, Tory stressed he didn't currently have any specific recommendations to make to the city council, although "I just know those are things that sit out there still as options that are in front of the city government to raise money to do the things we have to do," he said.
Tory questioned whether city employees had to work in their current locations. "Is it necessary for them to work there, geographically with technology and all? Is it necessary we need to own that real estate?" Tory said.