Toronto leads in housing overcrowding: StatsCan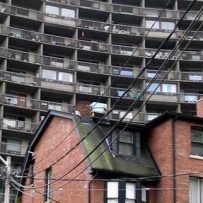 In major cities across Canada, rental housing construction has not been a priority for close to 40 years and the effect is an affordable housing crisis that is happening at a time when immigration is at a really high level.
Nearly one in 10 Canadian households that rent on the open market are suffering from overcrowding, Statistics Canada reported in the first batch of data from its Canadian Housing Survey.
But given Canadian housing affordability has severely eroded over the past decade, and that rents have been rising faster than incomes in most cities in recent years, it's a near-certain bet the problem is getting worse.
In Toronto, 20 percent of renters on the open market — or 133,000 households — are experiencing overcrowding, the agency's data shows. The situation is slightly less intense among renters in social or affordable housing, with 16.2 percent suffering from overcrowding.
Winnipeg, Regina, Edmonton, and Vancouver also showed elevated levels of overcrowding.
One reason why the issue has become a crisis in recent years is the rising house prices that have forced people to stay in rental housing for longer periods than in earlier times.
Another reason is that governments stopped offering major subsidies for builders of rental housing which was the case back in the 70's and 80's.
Rising rents have convinced some developers to start building rental housing, and the supply under construction has doubled in the past five years. But many experts say the supply of new rental housing is still below what's needed to meet demand.