Toronto Landlords May Pay Price For Illegal Pot Shops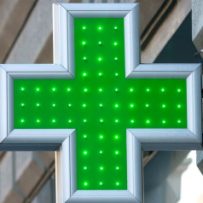 Toronto landlords are about to find themselves on the wrong side of the law when it comes to medical marijuana.
The last time I checked, possessing marijuana wasn't legal, smoking pot in public wasn't legal and selling cannabis products in an open setting sure as shinola wasn't legal, but Toronto has been embracing and reinterpreting its nickname "The Big Smoke" in a whole new way.
Pot dispensaries, cannabis cafes, medical marijuana clinics, smoke shops, vapour lounges — cannabis culture has gained a foothold in Toronto. Some neighbourhoods have had little to no infiltration, but many have had a staggering number of pot dispensaries open along the main street, out in the open — neon signs, welcoming storefronts and all. The city is estimating there are currently over 100 of them.
You'll see the sign if you take a walk along The Danforth, and new ones are cropping up in The Beaches, too. You'd almost expect that they'd multiply faster in the seedier neighbourhoods, but that's not the case. You'll find them in trendy midtown neighbourhoods like Eglinton and Davisville, as well as in North York community hubs Like University Heights, Scarborough and Etobicoke. A dispensary is only a Google search away.
Of course there's long been cannabis culture in Toronto, from Rochdale College in The Annex in the late 60s, to grassroots advocates like Kensington Market's Roach-O-Rama and Hotbox Cafe. But until recently most marijuana culture stayed underground. While illegal but seemingly tolerated to some degree, it made efforts to stay off of the radar of the general public and the law.
These new dispensaries are popping up in storefronts, claiming to serve a community relying on marijuana for medical purposes — glaucoma, epilepsy, chemotherapy, chronic pain, PTSD. Because the law to legalize marijuana is set to come into legislation in 2017, they've been allowed to operate, but with the unregulated business booming to new highs, the City of Toronto has decided to crackdown.
Mayor John Tory has concerns about the unregulated industry becoming infiltrated by organized crime, and many of the city's residents are asking why these dispensaries are allowed to operate when they're essentially not legal. While the city doesn't want to waste extensive resources cracking down on these dispensaries, only to be caught up in long legal battles as the products are decriminalized, some action has to be taken.
The solution is kind of brilliant — in a diabolical kind of way. Pass the buck on the dirty work!
Instead of going after dispensaries, the city has chosen to go after the landlords. It is a bylaw infraction to run an illegal business, and landlords who know that they're renting to an illegal operation face fines of up to $50,000 and can even have their property seized.
Police spokesperson Mark Pugash has said notices are being hand delivered directly to landlords. Landlords are being given notice of the illegal usage of their properties and have three days to remedy the problem or face consequences.
The dispensaries aren't being notified or busted; the police and city are putting it to the landlords to take care of the situation. And, realistically, they are legally culpable.
Pugash did not specify how many notices have been delivered, but implied that there were dozens.
These pot dispensaries shouldn't be confused with legitimate ones. There are licensed manufacturers and they dispense medical marijuana legally. The ones opening up shop all over town mostly are not — they are privately owned and selling various grades and qualities of marijuana products. They offer the typical smokable plant in a variety of strains and names, as well as edible products for those that prefer not to smoke. But their sources are not government sanctioned, there is no control on quality and no consumer protection.
(And it's illegal.)
Medical marijuana is an interesting alternative and a growing movement that won't be going away, so it's high time the government decided to do something about it. While this crackdown may clean up the streets in Toronto, Vancouver is undergoing the same issue and has just handed out their first legal business license. The spring of 2017 will bring new laws and hopefully some great regulations to the business of medical marijuana.