Toronto home sales plunge 20.3% in wake of Wynne government intervention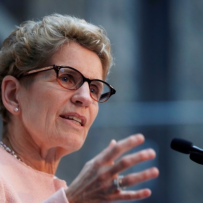 Home sales across the Greater Toronto Area plummeted in May, the first full month of activity since Kathleen Wynne's Liberal government took aim at the red-hot real estate market.
The Toronto Real Estate Board said on Monday 10,196 properties changed hands in May, marking a 20.3 per cent plunge from the same month a year earlier.
Facing uncertainty about the long-term impact of the government's intervention, homeowners heaped new inventory on the market. New listings surged 48.9 per cent year over year; while active listings jumped 42.9 per cent to 18,477. 
"The recent changes introduced by the Ontario government are creating a fog of uncertainty …that fog is keeping many buyers on the sidelines," wrote CIBC Capital Markets Deputy Chief Economist Benjamin Tal in a report to clients Monday.
Despite the sharp drop in sales and increase in supply, the average selling price still rose 14.9 per cent year-over-year to $863,910. The price growth cooled considerably from the 24.5 per cent gain notched in April. 
"One of the problems is interest rates continue to be relatively low here, and the Ontario economy is doing very well," said Paul Harris, partner and portfolio manager at Avenue Investment Management, in an interview with BNN. "So I don't think you're going to see as much as people think in the way of prices falling dramatically unless you have a recession or something." 
The data released Monday represents the first full month of statistics for the country's most-scrutinized housing market since the Ontario Liberals unveiled its 16-point plan amid fears of a full-blown housing bubble. Chief among the government's measures, which were announced April 20, was a 15-per-cent tax on foreign speculators.  
"The actual, or normalized, effect of the Ontario Fair Housing Plan remains to be seen. In the past, some housing policy changes have initially led to an overreaction on the part of homeowners and buyers, which later balanced out," said TREB Director of Market Analysis Jason Mercer in a statement.  
"On the listings front, the increase in active listings suggests that homeowners, after a protracted delay, are starting to react to the strong price growth we've experienced over the past year by listing their home for sale to take advantage of these equity gains."