Toronto finally has the most expensive rent in Canada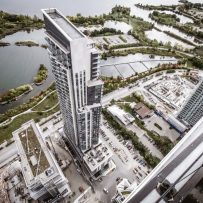 For years, Vancouver has had the priciest rent in Canada. But according to one rental website, another city has now claimed that dubious title.
According to data from Padmapper, the average rent for a one-bedroom Toronto apartment came in at a whopping $2,020 in January, edging Vancouver out of the top spot by twenty dollars.
The change represents a massive 15.4 per cent year-over-year jump, as the city's demand for rental grows ever stronger.
Toronto's apartment vacancy rate currently sits at 1.1 per cent, the lowest level in 16 years.
"Rising costs of home ownership and lack of new rental supply [keeps] vacancy rates at historic lows," writes Canada Mortgage and Housing Corporation market analyst Dana Sengama in a statement.
Meanwhile, condo rents are growing even steeper. According to an Urbanation report last week, the cost of a one-bedroom condo apartment rose 12.4 per cent quarter-over-quarter in December to reach $2,166.
"The continued tightening in market conditions caused rents to rise," writes Urbanation VP Shaun Hildebrand, in a statement.
Hildebrand points to an increased share of re-sold condo units as a reason for the low supply, as investors take advantage of quickly rising condo prices.
High rent and new rent control regulations also meant that tenants moved less in 2017, adding to already tight levels of rental supply.
So what is in store for Toronto renters in 2018? It's unlikely that relief will come anytime within the next few months, but it is possible that the construction of new units could help cool the market in coming years.
"A total of 3,644 units began construction last year, including 1,198 in Q4," writes Hildebrand. "After some cancellations and a pause in new applications following the new rent control rules earlier in the year, the inventory of proposed purpose-built projects increased to 33,787 units at year-end, with 5,410 units during Q4."
That increase in construction was likely caused in part by developers taking note of the city's desperate need for rental.
"[Demand fundamentals for renting far outweighing supply] has raised the confidence of developers to add more units to the pipeline, a trend that will need to continue in order to meet future housing needs for the GTA," writes Hildebrand.