Toronto election: 5 things to know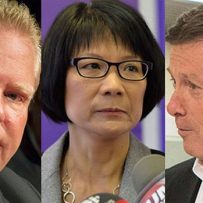 Story by: CBC News
Like it or not, whether you live in an Etobicoke duplex, a posh condo overlooking Lake Ontario or at the other end of the country, you have probably been unable to avoid hearing about Toronto politics over the past 12 months.
It has been, to make the grossest of understatements, an eventful year.
But with Monday's mayoral election, Torontonians will look to the future — either sticking with the legacy of incumbent mayor and controversy magnet Rob Ford, or striking out in a new direction.
Here are a few points to consider, in advance of Monday's decision:
One nation, under Fords
Whatever the outcome of the mayoral vote, the Ford Nation brand will likely go on. Though Rob Ford dropped out of the mayoral race last month — after doctors found a malignant tumour in his stomach — he side-stepped into the race for Ward 2, the seat he held for years before it was taken over by his brother, Doug.
Even if Doug, now running for mayor in Rob's place, does not take the top job at city hall, Rob is expected to reclaim Ward 2. Meanwhile a third Ford — Michael, nephew to Rob and Doug — is also expected to win a school trustee race in the same area.
Break from tradition?
If the election goes to either John Tory or Olivia Chow, it will mark the first time in recent memory Toronto has elected a mayor who wasn't a part of the previous term's city council.
Chow was on council for many years but jumped to federal politics in 2006, spending eight years as the MP for the downtown riding of Trinity-Spadina. She did an about-face earlier this year, returning to local politics with her run for mayor.
Tory has never held a job at city hall, though he ran for mayor in 2003, coming in a close second to David Miller.Tory also once led the Ontario Progressive Conservatives.
Doug Ford was first elected to council in 2010, to the same seat his brother vacated upon becoming mayor.
High turnout
This election has already seen high voter turnout. More than twice as many people cast early ballots this time, compared to four years ago — adding up to 161,147 votes across the city's 44 wards between Oct. 14 and 19.
Star power
More than the usual number of celebrities have chimed in on this election. Lena Dunham of HBO's Girls, Daily Show host Jon Stewart and former wrestler Hossein (The Iron Sheik) Khosrow Ali Vaziri  have voiced their support for Olivia Chow.
Chow also received campaign donations from authors Margaret Atwood and Vincent Lam, filmmaker Sarah Polley and actors Shirley Douglas and Sonja Smits.