Toronto Developer Delays Alberta Condos Amid Oil Crunch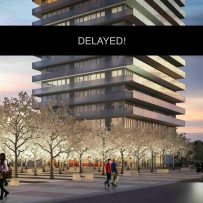 Story by: Katia Dmitrieva
The pain in Canada's oil patch is extending to one of the country's biggest real-estate magnates.
Lamb Development Corp. is delaying construction of two condominium projects in Alberta as the slump in the price of oil guts jobs and housing demand. The 36-story Jasper House and 45-story North will be delayed at least a year.
"The situation in Alberta is worse than 2008," said Brad Lamb, known as Toronto's condo king and for his humorous billboard ads depicting his face on a sheep's body. "This is a unique event that is annihilating anywhere in the world that produces oil." Executives at Fortress Real Developments Inc., which partnered with Lamb on the projects, declined to comment.
Lamb is pulling back as condo sales in Calgary and Edmonton posted the steepest decline in 2015 since the financial crisis. Sales of condos fell 38 percent in Calgary, Alberta's biggest city, and declined 56 percent in Edmonton, according to Altus Group Ltd.
Prices for Calgary apartments have been among the hardest hit in the housing market, sliding 8.7 percent to C$279,697 in January, while the average Edmonton condo declined 10 percent to C$227,052 over the same period, according to the real estate boards for those cities.
Lamb says all projects he has planned in Alberta will be built. Jasper House was 40 percent sold in October and today is about 50 percent sold, according to Lamb. He hopes to begin construction in February 2017. North, which hasn't started the marketing and sales process yet, will be built sometime after that.
Lamb's other projects in the province are forging ahead, including the Orchard, a two-tower condo complex that starts construction this fall, and 6th and Tenth, a 31-story tower that's under construction with buyers slated to move in March 2017, Lamb said. Both are in Calgary.