Toronto condo rents surge amid 'critically low' supply: Urbanation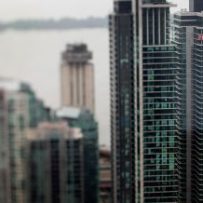 Supply in Toronto's already-tight rental market has hit a "critically low level" while rents continue to rise, warns Urbanation Inc.
A new report released Thursday by the real estate consulting firm revealed that condo lease transactions fell eight per cent to 7,754 units in the second quarter amid tight supply.
"Current rental supply has fallen to a critically low level," said Urbanation President Shaun Hildebrand in a release.  
"Demand has been pouring into the market while rental construction still remains relatively low, condo projects are taking longer to reach completion, not as many investors are offering their units for rent, and tenants aren't moving as often."
With supply running low, average monthly rents for condo leases signed in the second quarter rose 11.2 per cent year-over-year to $2,302, the data revealed.
However, there could be some supply relief on the horizon.
Urbanation found the number of applications for new purpose-built rentals was nearly 3.5 times greater compared to last year, with 5,920 new units proposed in the second quarter.
There was also an increase in new purpose-built rental construction in the quarter, with 2,635 starts recorded, according to the report.