TORONTO AND VANCOUVER OUTDO MOST U.S. MARKETS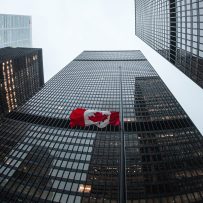 Canada has a numerically slight presence with disproportionate weight in Lee & Associates' newly released third quarter commercial real estate results. The overview of 44 markets across the United States along with Toronto and Vancouver purports to be a North American report — encompassing about 2.1 billion square feet in office, industrial and retail assets and 600,000 multifamily units in the two Canadian cities, and 36.7 billion square feet of the same property types and 17.3 million multifamily units in the U.S. markets.
For comparison, the report combines Toronto and Vancouver into a scoped Canadian index to be held against the 44 markets lumped into the U.S. index. From this nation-to-nation perspective, Canada generally stands out with lower vacancy rates, higher market rents, higher sales values and lower cap rates.
Toronto notably registers the lowest industrial vacancy rate — pegged at 1.3 per cent — while also hosting the fifth largest inventory of industrial space at nearly 837 million square feet. However, with about 10.4 million square feet of new space under construction, it lags the development pace of U.S. markets like Dallas, Atlanta and Chicago where more than double that volume is now in progress.
"Industrial real estate in the Greater Toronto Area continues to see rising demand from e-commerce fulfillment, food and beverage and paper products," notes Daniel Smith, vice president and principal with Lee & Associates. "Average asking net rental rates continue to trend upwards quarter-over-quarter with landlords pushing for high watermarks specifically related to premium mid-to large-bay space."
Similarly, Maria Fayloga, Lee & Associates Director of Research, points to strong demand for distribution/logistics space in Metro Vancouver — seen in the 3.7 million square feet of new development now in progress, including multi-storey facilities in Vancouver and several projects in the suburban cities of Richmond, Surrey, Delta and Langley.
"The industrial rental and investment market continues to experience growth with stable rents and steadily increasing market prices," she says. "The industrial real estate sector is expected to remain strong heading forward with vacancy rates at 2.1 per cent this quarter."
That represents the second lowest industrial vacancy rate in the 3rd quarter survey. In addition, Vancouver boasts: the lowest industrial cap rate, at 4.6 per cent; the lowest retail vacancy rate, at 1.6 per cent; the second lowest office vacancy rate, at 3.6 per cent; the second highest office market rent per square foot, at USD $45.03; and the highest office sales price per square foot at USD $671.
Toronto also cracks multiple top-5 lists in the office sector with: the fifth lowest vacancy rate, at 5.1 per cent; the fourth highest market sales value at USD $435 per square foot; the second highest tally of space under construction at nearly 13 million square feet; and the second lowest cap rate at 5.5 per cent. A retail vacancy rate of 2 per cent is the second lowest in the survey, after Vancouver.
Story by: Lee & Associates