Toronto Alliance to End Homelessness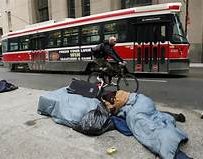 In November 2018, the City of Toronto released the results of its 2018 Street Needs Assessment survey.  On the night of April 26, 2018 there were 8,700 individuals and families counted as homeless and either using shelters, respite sites, 24-hour drop-ins, motels or sleeping outdoors.
The Toronto Alliance to End Homelessness (TAEH) is a collective impact initiative committed to ending homelessness in Toronto.  TAEH is working with the City to rapidly find units of permanent housing and match them with people who are current shelter users. This initiative is called the Rapid Housing Project.
The goal of rapidly housing people who are chronically homeless requires landlords to provide units for rent. All landlords and property managers are encouraged to participate – you will not lose any rental income.
Please click HERE for reasons why it is important to participate.