TORONTO ADAPTS PLAN TO BUILD AFFORDABLE RENTAL HOMES IN 3 'SHOVEL-READY' SITES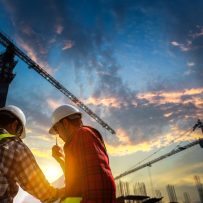 Toronto adopted a plan that will pave the way to start construction on three "shovel-ready" sites in Etobicoke, Scarborough and North York.
City council adopted at its Thursday meeting the Housing Now program's 2023 Progress Update report, which includes numerous recommendations of "urgent actions" for all levels of government in an effort to provide affordable housing across all of Toronto's neighbourhoods.
The city says the implementation of these recommendations will help build more than 16,000 homes, with nearly 5,500 of them created as affordable rentals and 12,000 as "purpose-built rental homes."
Construction will first start at 5207 Dundas Street West, 50 Wilson Heights Boulevard, and 140 Merton Street, with shovels hitting the ground this year and early 2024. These sites will build at least 1,949 affordable and market rental homes, the city says.
Council first approved of the Housing Now initiative in 2019 to use City-owned lands as grounds for developing affordable rental housing in transit-oriented and mixed-income communities.
According to the progress update, 10 sites have been re-zoned so far with six market offerings finished – though construction has not yet started on any of these projects, citing pandemic-related and macroeconomic factors forcing delays.
"The current residential vacancy rate is around 1.7%, there are over 10,800 people experiencing homelessness each night, about 40% of the city's renter households (223,188 households) are living in unaffordable housing, and home ownership rates are dropping as affordability falls to the lowest level on record," the report reads.
"This report makes a number of recommendations to City Council to help 'unstick' Housing Now projects that can be quickly activated, including ones where developer partners have been selected, and others that have been re-zoned and are ready to be offered on the market in 2023."
Housing Now recommends boosting grant funding to reflect the city's current market conditions, taking a "geographic approach to sites" by including a variety of units, among others. The housing initiative gears to build 10,000 affordable rental homes by 2030.
This announcement comes a day after the city adopted a staff report that would expand the number of multiplexes – low-form housing with up to four units per building – across the city.
Story by: CTV News