Top 5 most livable cities in the world include Vancouver, Calgary and Toronto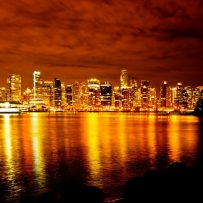 For the second year in a row, Vancouver, Toronto and Calgary have been ranked among the world's five most livable cities.
According to The Economist magazine's 2014 livability index, Vancouver is the third most livable city in the world followed by Toronto at number four and Calgary in a fifth place tie with Adelaide, Australia.
Melbourne, Australia topped the ranking for the fourth year in a row, while Austria's capital city of Vienna came in second. The annual study ranks 140 cities from 1 to 100 based on 30 factors related to things like safety, healthcare, educational resources, infrastructure and environment.
The top 10

The Economist notes that most of the top cities tend to be mid-sized cities in wealthier countries with a relatively low population density.
"This can foster a range of recreational activities without leading to high crime levels or overburdened infrastructure," the report reads. "Eight of the top 10 scoring cities are in Australia and Canada, with population densities of 2.88 and 3.40 people per square kilometers respectively.
On the opposite end of the livability spectrum, human rights violations and conflicts put cities like Damascus, Syria and Dhaka, Bangladesh on the bottom.
The bottom 10
What the numbers mean
The full report can be downloaded here.
Story by: Michael Aynsley