Top 10 Most-Searched Apartment Amenities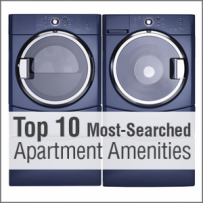 Story by: Brittany W. Boyce
Successful marketing of your community is key for drawing in prospects, but it's also important to stay in tune with what amenities they are seeking in a rental, so you can be prepared to meet their needs. Updating your property can be costly, but consider making small investments within your community from time to time in order to appeal to the Next Generation of Renters searching for their ideal community. If you're looking for a place to begin, here's a list of the top 10 most-searched amenities on ForRent.com over the last 90 days*:
Washer/Dryer In Unit
Air Conditioning
Washer/Dryer Hookups
Furnished Available
Patio or Balcony
Hardwood Floors
Dishwasher
Fireplace
Walk-In Closets
Wireless Internet Access
As you can see, there are some amenities that are more easily achievable than others, in terms of costs and practicality. If some amenities are out of reach for your community, consider offering alternatives to prospective residents – for example, if your community does not have washers/dryers in unit, you could work with a local Laundromat to provide discounts to your residents. After all, if your community is only missing one amenity from their list of must-haves, your efforts just might sweeten the deal and encourage them to sign a lease with you!