TO HELP SOLVE THE HOUSING CRISIS, WAIVE OR DEFER SALES TAX ON PURPOSE-BUILT RENTALS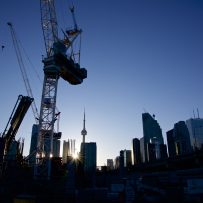 To help solve the housing crisis, it is time to waive or defer the sales tax developers incur for purpose-built rentals.
Currently under the law, developers who rent out the homes they build are deemed to have sold and then repurchased those units. Depending on the province, this results in a goods-and services tax or harmonized sales tax that developers must remit to the Canada Revenue Agency.
To waive or defer this tax would incentivize developers to build more rental units, thus alleviating the housing shortage. Among all the policy levers, this the most realistic option, since it's relatively easy to implement, and its impact is significant.
Measures like this are needed now more so than ever before.
Something very interesting happened over the past few months. Literally minutes following the Bank of Canada's January announcement of its intention to pause, homebuyers all over the country woke up, causing sales and the average home price to rebound by no less than 21 per cent and 13 per cent, respectively, since then.
No question the resumption of hiking in June and the risk that the coming months will see another hike will work to curb homebuyers' renewed enthusiasm. But what we have learned from this episode is that the market is even tighter than perceived, and that buyers will return even before rates go down, as long as the rate environment is predictable. Put differently, the recent and potentially upcoming slowdowns will end up being nothing more than blips. The overall trajectory is toward an even tighter and more unaffordable housing market.
The summer will come and go, and the fall will bring a new fiscal update. We hope and expect that housing will be the centrepiece of that update. We look for Ottawa to introduce bold measures that will include meaningful changes to the economics of purpose-built rental projects. This is an area on which policy must focus.
At this point, numerous companies all over Canada have attempted to start significant rental pipelines, but despite having a low cost of capital through partnerships with Canadian pension funds, a long-term investing horizon and a mandate to be part of the solution to the rental supply crisis, they are unable to make projects economically viable in the current climate of rising interest rates and high borrowing costs.
It's simple math. Developers of for-sale properties get paid beforehand through preconstruction sales. But those who build rentals pay a bigger cost upfront and then only get to see their money trickle in slowly over the years.
For example, for a 400-unit building in Toronto in the current economic climate, a developer that elected to build a condo project would enjoy an average profit margin of 12.5 per cent. The same developer, however, will ultimately see a loss of 20 per cent if they choose to proceed with a rental project.
Waiving property taxes would have the most significant impact on rental project viability, but here we expect little action from cash-starved municipalities. A reduction in development charges and parkland fees would also be a step in the right direction and is somewhat more realistic. But, by far, the most pragmatic step to take in the immediate future would be to waive or defer HST payments on purpose-built rental projects from first occupancy to the sale of the building, while keeping the same valuation methodology as the current regime.
Ottawa will have at least one willing partner – in the Ontario government. Buried in Page 84 of the recent Ontario budget was the following sentence, "we call on the federal government to come to the table on potential Goods and Services Tax/Harmonized Sales Tax (GST/HST) relief, including rebates, exemptions, zero-rating or deferrals."
Such a move alone would shave close to $60,000 from the unit cost of that 400-unit project in Toronto, resulting in a meaningful reduction in rent, while at the same time unlocking tens of thousands of rental units across the country in short order – clearly a step in the right direction.
Story by: The Globe and Mail