TIPS ON MAINTAINING YOUR BUILDING'S LAUNDRY ROOM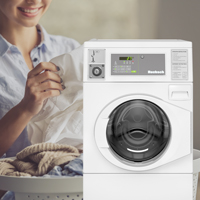 A clean, well-lit laundry room is a valuable amenity for your apartment building. Not only does an inviting laundry area make a positive first impression on potential renters, it gives current residents a sense of security when laundry day arrives.
Here are a few ideas to help you make your apartment building the rental of choice with a welcoming, community-focused laundry room.
Communicate COVID-19 guidelines
During these times, most residents are likely concerned for their health. Keep a safe space by encouraging residents to avoid hanging out in the laundry room while they're waiting for their loads to finish. Limit the number of people who can be in the laundry room at one time and hang a sign to let other residents know if they can enter.
Make sure you have enough machines
Having sufficient commercial washers and dryers is crucial to a successful multi-housing laundry room in an apartment or condominium. Constantly having to wait for machines can spur animosity between residents and overall dissatisfaction throughout your building. Angry, annoyed and unsatisfied tenants are probably not going to be as apt to get to know their neighbors, embrace a community vibe or re-sign a lease in your building.
Make the space bright and inviting
It shouldn't come as a surprise that residents won't want to do their laundry in a room that's dark, cold and uninviting. Even with spending less time in laundry rooms because of COVID-19, an inviting laundry room is important to residents. With that in mind, brightening up the shared laundry area and making it homier and welcoming is a natural way to build that community feel. Consider windows and natural light, natural light lamps and live plants, a fresh coat of paint, and other fun design and decor items.
Showcase the community
What better way to build the community than to feature the people and news that's important to your residents? Shared spaces in apartment buildings, such as the laundry room, are a great place for a bulletin board that features residents of the building, important local news and events, and other relevant community information.
Especially at a time where many people are isolated from each other, it's the perfect opportunity to learn more about their neighbors and feel like they're part of a community. If residents are allowed to add pictures and notes to the board, it's also a great way for landlords and property managers to get to know the tenants better.
Secure the room
No one is going to want to do laundry in a place they don't feel safe. Securing the entrance to your laundry area helps assure the space is only accessible to residents, giving everyone a little peace of mind. Security cameras can also help you better monitor the space and make sure that tenants are treating others and your equipment respectfully.
Hopefully, these tips will help you and your residents get more out of the laundry area and the building overall. With a little attention and TLC, a shared laundry room can be an incredibly valuable space in your apartment complex.
Story by: Huebsch