Tightest Hamilton rental market since 2002 halts condo conversions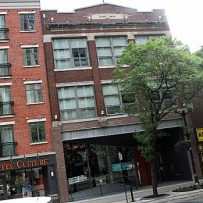 Story by: Kelly Bennett, CBC News
A two-year moratorium on apartment building conversions to condos is in place after Hamilton's apartment vacancy rate dipped to its tightest level in more than a decade, a report presented Monday at a council committee advised.
The vacancy rate for two-bedroom apartments in the city of Hamilton was 1.6 per cent in 2014, according to numbers generated specifically for the city by the Canadian Mortgage and Housing Corp.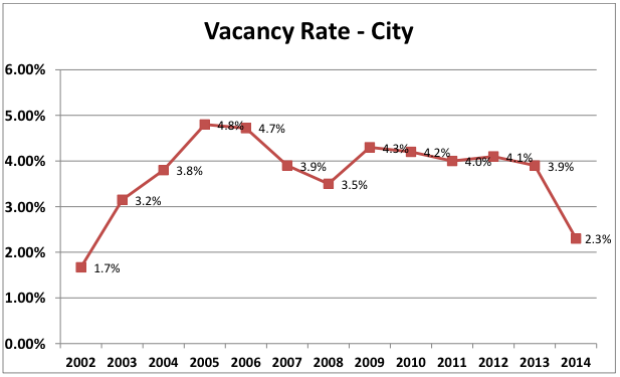 City policy stipulates the vacancy rate has to be higher than 2 percent when an apartment is converted to a for-sale condo, and must still be above 2 per cent after the conversion. A healthy rental market has between 2 and 3 per cent of its apartments sitting vacant.
That 1.6 per cent vacancy for two-bedroom apartments means that condo conversions of buildings holding many two-bedroom units will "not be permitted for 2015 and the next 24 months," according to the report.
There is one exception as of 2013. The landlord can convert the units if 75 per cent of the tenants support the conversion. City staff say that exception is warranted because the converted units can provide some affordable homeownership options. But they are working on a policy to "make sure the tenants know their rights" and that addresses a "fear of coercion," said housing policy analyst Kirstin Maxwell.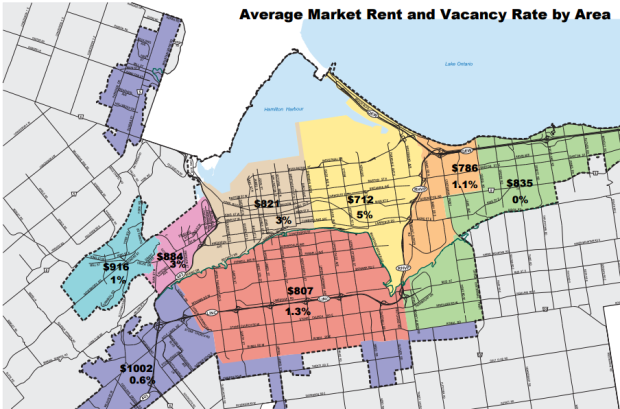 'Greater risk of homelessness and of general hardship'
Nearly 2,000 apartments have been taken out of the rental stock over the past decade as developers have converted them into condos, the report said.
Since the 1980s, private market developers have not found it profitable to build apartments, according to the city. "Almost all of the new rental units that have been built in Hamilton since that time (813 affordable units) have been supported by government programs," the report said.
New condos and some apartments are coming to the market, but they'll mostly target the top end of the price spectrum, city staff said.
Hamilton's overall rental vacancy rate fell sharply to 2.3 per cent in 2014 from 3.9 per cent the year before, according to new numbers from CMHC released to city officials. The only parts of the city with more than 2 per cent vacancy were west, central and central-east Hamilton.
That tightness leads to less choice, rising rents and a lengthening wait list for subsidized housing. "More people are at greater risk of homelessness and of general hardship," the report said.
City staff warned councillors Monday it's becoming more difficult for housing workers to find affordable housing for their low-income clients. Landlords who were willing to rent to recipients of city housing subsidies "no longer want to refill subsidized units and it is difficult to attract new landlords to the programs," according to the report.
And the city may have to reevaluate its "housing allowance" program that gives a flat $200 to eligible households. In the past, "historically low rents" meant that amount was enough to help "many people to remain housed."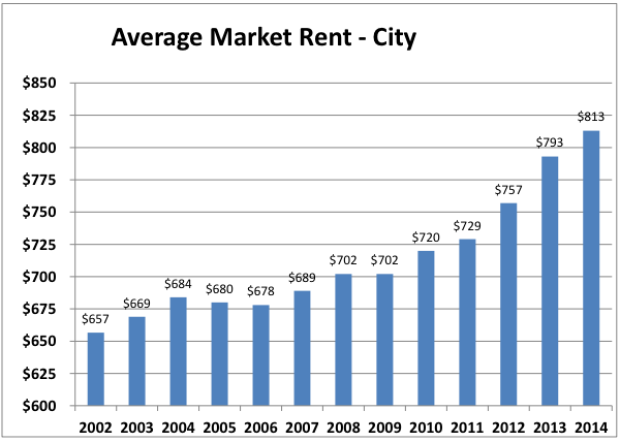 'Adds to the impetus'
Maxwell said the stark numbers underscore the city's need to take the actions prescribed in its Housing and Homelessness Action Report, passed in 2013.
"This just adds to the impetus to do those things," she said. "It's a concern."
The CMHC data does not count the "secondary rental market," which means a large portion of what makes up the rental market in Hamilton — duplexes, split-level houses, rented private condos — is left out. The vacancy and price data in this report reflect only the vacancy and rents charged in buildings with six units or more built specifically to be rented as apartments.
Still, the numbers paint a tough picture for low- and moderate-income renters. Average rent in all unit types was $813 across the city in 2014, up from $793 in 2013.
That 2014 number is a steep 15.8 per cent higher than the $702 it was in 2009. Landlords can only raise rents incrementally for the same tenant from year to year, but when they rent to a new tenant the rents can rise more significantly.
Buildings with fewer than six units make up about one-third of Hamilton's rental housing stock. Councillors voted down a measure in 2013 that would have required landlords to register their units with the city.