Tight Vancouver rental market drives high demand from buyers of apartment blocks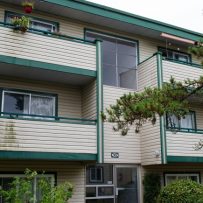 Story by: BARBARA YAFFE, VANCOUVER SUN COLUMNIST
Buyers tend to be local as sticker shock keeps foreign and most national buyers out of the Vancouver market
Vancouver-area apartment buildings are in high demand, in a rental market with the lowest vacancy rate and highest rents in Canada.
Just as detached houses and condos in the city are fetching the highest prices nationally, so too the "price per door" for multi-family buildings is highest here, in the neighbourhood of $230,000 a unit.
That compares to $171,000 a unit in Calgary and $160,000 in Toronto, according to a new report from Colliers International.
For those interested in saving up for a complex of five or more units — and just imagine the fun to be had on the first of every month, collecting those rent cheques — Colliers puts the average price of a Vancouver-area building at $4.8 million.
And the average rent in Vancouver is about $1,200.
The city's vacancy rate is a rock bottom one per cent, making Vancouver by far the tightest rental market in Canada, and tighter than a year earlier when it was 1.7 per cent. Montreal and Halifax have vacancy rates nearing four per cent wile Toronto has a vacancy rate of 1.6 per cent.
"The multi-family asset class remains the most stable asset in major Canadian cities," says the Colliers International's Multi Family Report for 2014. It cites "significant demand for good quality assets across Canada," and predicts continued strong demand through 2015.
Colliers counted 92 Vancouver sales in 2014 in the multi-family category.
That number is challenged by Vancouver-based Realtors David and Mark Goodman, who sold two dozen apartment buildings last year and meticulously research the market for their pithy newsletter The Goodman Report.
The father-son team at HQ Commercial count 123 buildings sold last year, up from 94 in 2013. The 2014 sales were valued at $800 million — a record high for Vancouver.
Mark Goodman describes Vancouver's apartment market as "unrelenting, fuelled by low vacancy and interest rates, a low Canadian dollar and government stability."
Oliver Tighe, director of valuation and advisory services for Colliers, agrees that demand is significant.
And supply is a challenge because, explains Tighe, "owners of high quality buildings in Vancouver don't want to get rid of such an attractive asset."
Demographic trends elsewhere appear to be pointing to the likelihood of multi-family buildings becoming an even more coveted investment in future as a growing number of Vancouver residents may find themselves forced to rent.
London's Daily Mail reported last week that just 31 per cent of Britons under-35 owned their homes in 2013, compared to 60 per cent in 1991. Like Vancouver, London has experienced huge price increases for residential real estate, partly due to interest from offshore buyers.
So, who exactly is buying Vancouver's apartment buildings?
Colliers reports, "an emerging trend in Canada is the shift of ownership from private to national owners."
That may be the case nationally but not in Vancouver, says David Goodman, asserting the market here is local rather than national or international.
"There is little evidence here of offshore activity."
He recalled one case, in the last couple of years, of a woman from China who had been given $100 million by her father to purchase several buildings in the city.
Most buyers are "familiar faces" — locals, making their purchases under corporate auspices.
Bidding wars are infrequent because the buyers know exactly what a given property is worth.
"There are 40 to 50 knowledgeable buyers in Vancouver with deep pockets who are building large portfolios."
A few pension funds from elsewhere in Canada have invested, says David Goodman, while "buyers from Zurich or Toronto or Seattle can't relate to our prices, and don't have the patience to wait for their investments to pay off."
In the past 10 years, owners of Vancouver-area apartment buildings have typically seen the price of their asset increase by 150 per cent.
"An investment in Vancouver is low risk," says Mark Goodman, "and offers slow and steady growth."
Story by: BARBARA YAFFE,  byaffe@vancouversun.com