THREE QUARTERS OF WORKERS WANT THE CHOICE TO WORK FROM HOME AFTER LOCKDOWN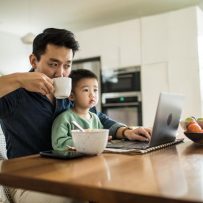 Seventy-seven percent of the workforce say they want to continue to work from home, at least weekly, when the pandemic is over. That represents a 132 percent increase over those who did so before COVID-19. These and other findings from the Global Work-from-Home Experience Survey, which claims to be the largest post-COVID survey on the topic to date, will lead to profound changes in office space needs, workplace design, workforce policies and practices, and employer, employee, and environmental outcomes.
"One of the big questions we wanted the survey to answer was what the long term impact the crisis would have on the future of the office," says Dr. Anita Kamouri, co-founder of Iometrics and one of the researchers who fielded the survey. "Based on what we're seeing, if employees get their way, they'll be spending three days a week at the office and two at home.
About a third of survey respondents said they worked from home at least weekly before COVID-19. During the pandemic, that number rose to a 89 percent. For over half of employees (55 percent), this was a new experience. "Having had a taste, even under less than ideal conditions, employees are saying they want more. The genie is out of the bottle and it's not going back in," says Kate Lister, president of Global Workplace Analytics who partnered with Iometrics on the survey.
In a 2019 survey by the Society for Human Resource Management, 70 percent of employers said they offered regular work-from-home, but Bureau of Labor Statistics data reveals that only 7 percent offer it to all or most of their people. Except for customer service representatives, the option to work from home on a regular basis has largely been reserved for older, more tenured, upper-income employees.
Kamouri and Lister are still analyzing the data, but the survey has already revealed:
Only 6 percent say they would not want to work from home in the future
When working alone, which accounts for 57 percent of a worker's day, employees say they are productive 75 percent of the time at home, compared to only 63 percent at the office
When working with others, which accounts for 43 percent of a worker's day, employees say they are equally productive at home versus in the office (61 percent vs. 60 percent of the time respectively), but they are more satisfied when collaborating in person (61 percent satisfied with collaborating at home vs. 87 percent at the office).
Distractions and interruptions account for 73 minutes a day when people are at the office and 35 minutes a day when they work at home. "This one really surprised us," says Lister. "Even with the unusual challenges to working from home right now—spouses, children, pets—employees feel less distracted than they do at the office."
The majority of employees (60 percent) would be willing to give up their assigned desk at the office in exchange for the opportunity to work from home some or all of the time. "This preference demonstrates the importance of flexibility in the overall employee value proposition and the role that working from home can play for both employees and the creation of future workplaces that are agile and efficient", says Kamouri.
"Right now, global employers are scrambling to prepare their workplaces and work practices for a return to the office, but they know things are not going back to 'normal', not now, and probably not ever," says Kamouri.
"The resulting change in how and where people work will have far-reaching implications for the built environment, sustainability, labor markets, transportation infrastructure, regional planning, tax and labor laws, and more, says Lister. "It's not going to be work as we knew it."
Over 2,600 global employees participated in the on-line survey between March 30 to April 24, 2020.
Story by: Insight