This Toronto condo developer is offering guaranteed rent on your investment — but at what price?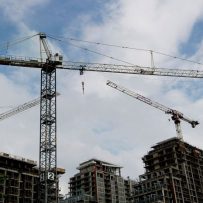 Story by: Garry Marr | Financial Post 
One of Canada's largest real estate developers, faced with skittish investors worried about a Toronto condo crash, is offering a guarantee on rental income for two years.
Although this type of deal is not without precedent, it does raise the question of what buyers are ultimately paying for this perk?
The Minto Group is reaching into its bag of condominium treats — incentives have long been part of the industry — to offer investors in its Toronto development called Minto Westside, near the city's waterfront, a guaranteed six per cent return on their purchase price for 24 months.
"On a $300,000 suite, you would be guaranteed $18,000 or $1,500 in rent per month. It guarantees if the rental market is soft or is becoming soft, Minto would make up any balance," said Amanda Watkins, vice-president of marketing and sales for the company. "Owners get a higher level of certainty and are protected against any downside in the market."
As an investor, you might look up at all the cranes in the city and be fearful of all the supply coming on stream, but demand has never been stronger. The vacancy rate in the condo sector is about 1.3 per cent and condo rental income growth was up 4.6 per cent in the second quarter from a year ago, according to research firm Urbanation Inc.
"Rental demand in Toronto continues to defy expectations," said Shaun Hildebrand, senior vice-president at Urbanation. "In a lot of these cases, if the investor went to the market themselves they could probably get an even higher level than is being guaranteed to them."
Minto contracted out the property management for the rental perk but is keeping any profits above and beyond the six per cent return. Condo owners are able to opt out of the agreement in a hot market.
Watkins said the program was created because end users were telling Minto they were concerned about a downside in the rental market "because it has been so strong for so long" and that it might not continue until the project is completed in January, 2018.
The real question might be what does a comparable condo cost without the guarantee and Watkins says it's the same amount. However, people who plan to reside in their future condo, not rent it out, are currently compensated with $10,000 on closing.
It sounds like simple math — you're paying $10,000 for that rental income guarantee at six per cent. Any investor has to ask themselves whether they can get annual rental income of $15,000 to $24,000 on their own, about the return Minto is offering based on units which range from $250,000 to $400,000.
You want to know the truth, there's no such thing as anything free
"Most people will go for the cash back," says Hildebrand, who doesn't dismiss that the rental guarantee will have value to some investors.
Don Campbell, of the real estate investment network warns that the money must come from somewhere. "The insurance you are gaining from the guarantee may in fact be created with your own money. It's smarter for a strategic investor to get a lower price and manage on their own," he says, adding the larger issue might be condominium fees which can rise quickly after a building goes up.
Toronto developer Brad Lamb says he's seen cars given away, free upgrades on finishing, appliances, condo fees paid for two years or cash back to name a few.  After a condo project goes up and the initial buzz fades, developers look to keep customer traffic going.
"In the crowded Toronto condominium marketplace, people are always looking for a shtick," said Lamb. "You want to know the truth, there's no such thing as anything free."
None of this means that there is anything wrong with perks like the one Minto is offering or others many developers will throw in, but consider them in your calculations and debate whether your investment makes sense still.