This Toronto building shows why developers are converting rentals to condos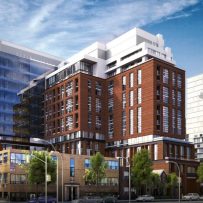 This week, a major new development's condo units sold out, just days after they went on sale. But those same units had originally been designated as rental, before the new rent control legislation led the developers to have a change of heart.
On Tuesday, RioCan and Allied Properties announced that the condo units at the downtown Toronto King Portland Centre — 133 units which went on sale just a few days before, on October 14 — where substantially sold out.
"The strong response to the sales launch… this past weekend affirmed the decision by RioCan and Allied to convert the project from rental to condominium," writes RioCan CEO Edward Sonshine, in a statement.
The development — a mixed-use commercial/residential complex set to house Canadian tech giant Shopify — made headlines last month for the conversion, a decision Sonshine attributed to the introduction of province's extended rent control under its Fair Housing Plan.
The development is just one example of a growing trend. According to a report commissioned by the Federation of Rental-housing Providers of Ontario, more than 1,000 planned purpose-built rental units have been converted to condos since the provincial policy came into effect.
The report also found that 20,000 of more than 28,000 planned purpose-built rental units in the GTA were under review as a result of the policy change.
"The introduction of rent control was the main catalyst for many of these developers to convert planned rental units into condos," Urbanation senior vice president Shaun Hildebrand tells BuzzBuzzNews.
Hildebrand says that, while the number of proposed purpose-built rental units continued to rise in the second quarter, the pace of growth had slowed.
From April to June 2,453 units were proposed, but July to September only saw 1,719.
He says developers are increasingly drawn to the new-construction condo market, which he describes as "too good to pass up."
"The decision to convert is made easier by the allure of the condo market, which has seen values jump by 30 per cent in the last year," says Hildebrand. "When you consider the demand in the market for new-built condo units, and versus the relative lack of supply, it's an obvious incentive for developers."
Urbanation's latest report, released last week, found that condos listed for rent in the third quarter were leased within the shortest amount of time on record, at an average of just 10 days, while the ratio of leases-to-listings sat at an all-time high of 88 per cent.
"I think moving forward you're going to continue to see condo owners supply units into the sector," says Hildebrand. "But that being said, in order to create the amount of units needed to address affordability issues in the market, we feel that purpose-built development needs to be twice as high as it is right now."
Completion of the King Portland Centre is scheduled for early 2019.