This Is How Much Rent Cost Across Canada In September 2019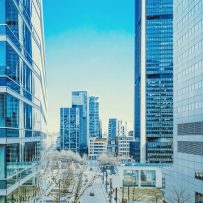 Pity the Torontonian looking for a one-bedroom. According to PadMapper's latest rent report, Toronto ranked the most expensive rent for a one-bedroom apartment — which currently sits at $2,300 on average — in Canada. Two bedroom apartments in Toronto grew by 3.6 per cent to an average of $2,990.
Vancouver ranked a close second at $2,200 for a one-bedroom, while two bedrooms rose 3.6 per cent to $3,200. So it's cheaper to live alone in Toronto, but cheaper than Vancouver if you opt to have a roommate and split the costs.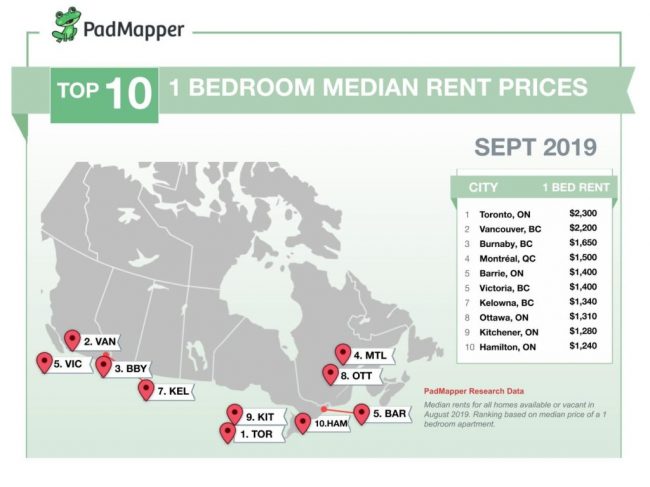 Burnaby ranked the city with the third most expensive rent for a one-bedroom at $1,650. It had the largest one-bedroom monthly rental growth rate in the top 10 markets, up 5.1 per cent and settling at $1,650. Strangely, the two-bedroom rental cost fell by 0.4 per cent to $2,270. In part, Burnaby's high rental costs can be attributed to so many old and outdated rental buildings being demolished over the past several years.
But apartments weren't built quickly enough to replace the lost ones and short supply led to higher pricing. As of March this year, Burnaby took advantage of the new rental-only zoning powers and policies, which requires developers to replace every rental apartment they demolish on a one-to-one basis.
One surprising market shift happened in Quebec. Montreal moved up a spot jumping 4.9 per cent to $1,500. A two-bedroom in Montreal also grew by 5.3 per cent to $1,800. Renowned for its affordable rents, Montreal was once a safe haven against the cross-country rent increases. Now would-be renters are being priced out. The Canadian Mortgage and Housing Corporation notes that the city's vacancy rate last year dropped to 1.9 per cent. That's the lowest it's been since the early aughts.
In terms of overall trends in rent, nearly half of surveyed cities experienced monthly rental growth and 10 had double digit growth in rent costs over the past year. For Toronto and Vancouver, the rents plateaued, while Victoria inched up to the top five at $1,400 for a one bedroom, tying the spot with Barrie, Ontario, which dropped one spot. Barrie rent decreased 3.4 per cent in the one-bedroom sector to $1,400.
Of all the surveyed cities, Abbotsford, B.C. had the largest one bedroom rental growth rate, up by 5.3 per cent. Meanwhile, London, Ontario rents shot down by 2.9 per cent to $1, 020. Rents in Kitchener also fell by 2.3 per cent to $1,280 and St. John's, N.L. fell one spot to rank as the most affordable city in the nation with a one-bedroom listed at just $790, down 2.5 per cent from last year.