Think Toronto real estate's on fire? These Ontario housing markets are even tighter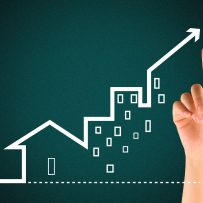 At least two Ontario housing markets are tighter than the Greater Toronto Area's, and local realtors say more and more bidding wars over homes are breaking out in them as buyers compete for limited listings.
Both the Niagara Region and Hamilton-Burlington have sales-to-new listings ratios that overshoot what was seen in the GTA in April, according to the most recent data from the Canadian Real Estate Association.
These ratios, calculated by dividing sales by new listings for a month, are represented as a percentage out of 100.
Ratios between 40 and 60 per cent signal a balanced market. Lower ratios suggest a buyer's market, and higher ones are indicative of a seller's market.
In April, Niagara's ratio was 85.1 per cent and Hamilton's was 81.6 per cent. Toronto, on the other hand, had a ratio of 74.8 per cent.
Robert Kavcic, a BMO senior economist, says properties don't stay on the market for long in Niagara, which had the second-highest ratio of the 26 CREA provides, just shy of Victoria's 87.1 per cent.
"Niagara-Fort Erie looks as hot as it has been in at least 25 years," he writes. "Pretty much all new listings are being absorbed within the month."
Home sales in Niagara surged 20.3 per cent in April, compared to the same time a year ago. Compared to the same period in 2015, the average sale price climbed 8.8 per cent to $303,805.
Patrick Dummit, president of the Niagara Association of Realtors, says buyers are coming from pricier markets such as Burlington, Oakville and Toronto, having profited from the sale of homes there.
"[They are] buying basically the same quality of a house here for less than half the money," he explains, which frees up cash.
Dummitt, also a sales rep at Royal LePage, says bidding wars started happening more frequently last fall.
He says 29 per cent of the sales recorded through his office were for more than asking price from January to May this year.
"That's usually an indicator, very rarely would it not be a multiple-offer situation — I would say less than 1 per cent," he explains.
In Hamilton, three main factors are leading to tight market conditions, says George O'Neill, CEO of the REALTORS® Association of Hamilton-Burlington.
"The City of Hamilton is doing a great job promoting economic development and the city itself is shaking off the old stereotype of steel city," he says.
"There's lots of other things going on here, so that's driving a lot of demand," O'Neill observes. "Businesses are coming here, companies are starting up [and] young professionals are coming out here," he adds.
The local housing market is also benefitting from years of investment in Hamilton's healthcare industry. "That's created employment and really high-paid jobs," says O'Neill.
He points to McMaster University, the site of McMaster University Medical Centre, which boasts a staff of about 11,000, according to its website.
O'Neill also says high prices in Toronto make Hamilton an appealing alternative. "Because of what's going on in Toronto… people are coming this way for affordability," he explains.
The average sale price of a home in Greater Toronto Area was $751,908 in May.
"Our average price right now is just a little bit over $478,000, so you can compare that to the average price in Toronto — it's substantially less," he says.
With more people moving into the area, there is a shortage of listings, says O'Neill. According to his realtors' association, 2,265 residential properties hit the market in May, a 13.4-per-cent decline from the same month last year.
"There's quite a number of bidding wars on properties," he notes.
O'Neill says the market has been heating up this year, and competition of properties has intensified through the spring.
He lists two examples of notable bidding wars that took place in Hamilton recently that demonstrate the heat of the market.
"One I believe had over 30 offers, and I think another one was rumoured that it maybe even had over 50 offers," he recalls.