These 3 groups of homebuyers are causing condo prices to soar in Greater Vancouver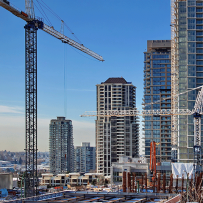 Although overall home price growth has eased in Greater Vancouver over the past year, prices continue to rise in the region's condo market, due to overwhelming demand for the more affordable homeownership option.
But, Royal LePage President and CEO Phil Soper says there are three key groups of prospective homebuyers that are putting extra pressure on the condo market.
"We have young people, Millennials, who are moving rapidly into homeownership and they are looking for condos. We have retiring boomers and we have new Canadians who overwhelmingly favour condominium style homes," Soper tells Livabl in a video interview.
Soper notes that these groups of homebuyers are opting for condos as detached homes and semi-detached homes are likely outside their budgets.
"In Vancouver, we have Canada's most expensive detached homes. [T]he City of West Vancouver is the most expensive city anywhere in the country with a median price of $3.5 million. So affordability plays into this as well," says Soper.
In June, the benchmark price of a condo hit $704,200 — a 17.2 per cent increase from a year ago, according to the Real Estate Board of Greater Vancouver.
In the coming months, Soper expects strong demand for condos to continue, resulting in accelerated prices.
"It's just one of those regions of the world, frankly, that can't seem to keep up with demand for housing. We're structurally in a situation where there are more people looking for homes than we have homes available and prices will continue to rise in that kind of scenario," says Soper.