There's a rental renaissance sweeping through Toronto and Vancouver thanks to sky-high home prices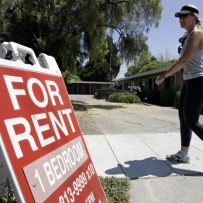 Story by: Alexandra Posadzki, The Canadian Press
For the past two decades, developers in Canada's hottest real estate markets have busily erected shiny new condominium towers while construction of rental buildings has stagnated.
But with the appetite for condos beginning to wane and sky-high home prices leaving home ownership out of reach for many, developers and institutional investors in Toronto and Vancouver are increasingly setting their sights on rental units.
"It's a significant shift," says Shaun Hildebrand, vice-president of condo research firm Urbanation.
The firm says there are eight rental buildings currently under construction and 37 more proposed in the Toronto area, containing a total of more than 11,000 units. That's a nearly 75 per cent increase over what has been developed over the past decade, says Hildebrand.
Some Toronto projects that were originally planned as condo towers will be built as rental buildings instead, including Urbancorp's Kingsclub condo complex on King Street West and a proposed 49-storey tower at Bloor and Sherbourne called The Selby.
The new development proposed at the site of Toronto's iconic Honest Ed's store will contain no condos — only rental units.
In Vancouver, more than 1,000 dedicated rental units have been constructed each year over the past few years, according to data from the city.
"There just needs to be more rental stock because there's such a demand for it," says Kevin Hoffman, senior vice-president at Aquilini Development and Construction Inc.
The company is currently putting the finishing touches on of three towers that will form its downtown Vancouver rental community, the Aquilini Centre. It also has two other rental projects underway — a heritage building restoration in Vancouver and a 700-unit building in Montreal.
Adam Kasoy, senior managing director at real estate services company Colliers International, says many people simply can't afford to buy homes, especially in Toronto and Vancouver, where home prices have defied gravity.
The average price of a detached home topped $1.1 million in Toronto and $1.4 million in Vancouver last month.
That's left many potential buyers stuck in the rental market, keeping vacancy rates low and pushing rent prices higher. In Toronto, condo rents have climbed 15 per cent over the past five years, said Hildebrand.
"That's what investors and developers were waiting for — the big jump in rents," said Hildebrand.
Developers have also discovered that many renters are willing to pay a premium to live in a well-managed rental building, rather than renting a condo from an investor who could force them out when it comes time to sell.
Renting from an investor has other drawbacks, as well. It can be tricky to get a hold of the owner when repairs are needed, and many investors lack the knowledge required to be a good landlord.
"Condos are not the best setup for the landlord-and-tenant relationship," says Gavin Lottering, who has been living in his downtown Toronto condo for about two years and is looking to make the switch to a rental building.
Lottering's landlord recently tried to hike his rent to help cover condo fees.
"I had to explain that the landlord and tenant act ties rent increases to the consumer price index," he said.