The Vancouver market keeps dropping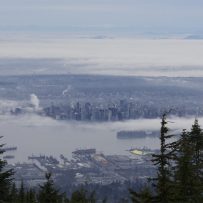 Home sales and prices keep falling in BC several months after the provincial government imposed its foreign-buyer tax.
Some 1,523 residential properties were sold across Metro Vancouver in January, according to the Real Estate Board of Greater Vancouver (REBGV) — that's a 39.5 per cent drop from that same month a year ago and down 11.1 per cent compared to December 2016. It's also 10.3 per cent lower than the 10-year average for January.
Meantime, on a month-over-month basis the benchmark price of a home in the region sunk 0.2 per cent to $896,000. REBGV added the benchmark price has fallen 3.7 per cent in the last six months, which is roughly how long the foreign-buyer-tax, a 15-per-cent levy on non-residents buying residential real estate in Metro Vancouver, has been in effect.
"From a real estate perspective, it's a lukewarm start to the year compared to 2016," said Dan Morrison, president of the board, in a statement. "While we saw near record-breaking sales at this time last year, home buyers and sellers are more reluctant to engage so far in 2017," he added.
BMO Chief Economist Douglas Porter, suggested other developments are dragging sales and prices down in Metro Vancouver. "The cooldown owes partly to fewer nonresident buyers post-tax, and poor affordability, with most of the downward price pressure in the super-expensive detached segment," Porter explained.
Indeed, in the detached segment declines have been more pronounced. The benchmark Metro Vancouver detached home price was $1,474,800 in January, having fallen 0.6 per cent month-over-month and 6.6 per cent from six months earlier, reports REBGV. Sales in this corner of the market plummeted 57.6 per cent year-over-year, with only 444 detached dwellings selling via the board's multiple listing service system.
"Conditions within the market vary depending on property type," noted Morrison. "The townhome and condominium markets are more active than the detached market at the moment."
The benchmark condo price rose 0.4 per cent month-over-month to $512,300 in January. Looking back six months, that's an increase of 0.3 per cent. From a year prior, condo sales were down 24.7 per cent to a monthly total of 825 transactions last month.
The performance of attached properties, including townhouses, was mixed. January attached sales, which numbered 254 units, collapsed by 32.4 per cent year-over-year. But the benchmark price was up from a month ago, rising 0.7 per cent to $666,500. However, this is still down 0.4 per cent from six months ago.
As the foreign-buyer tax continues to have a cooling effect on the Metro Vancouver housing market, the provincial government has provided indication it is going to scale back the tax.
Recently, BC Premier Christy Clark announced plans to exempt non-residents with work permits from paying the foreign-buyer tax on home purchases.