THE U.S. WANTS TO RELAX INCLUSIONARY ZONING TO COMBAT HOUSING CRISIS. WE SHOULD TOO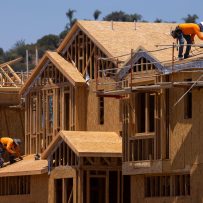 At both the federal and provincial level, Canadians and their legislators often look down their noses at American policy and politics, and sometimes with good reason: gun control and the abortion debate come to mind. But when it comes to tackling the housing crisis Canadian politicians could learn a thing or two from what is unfolding south of the border.
Earlier this month President Joe Biden announced that the federal government would be seeking to tackle the root cause of the housing crisis, which it believes to be exclusionary zoning — local rules that prohibit multi-family housing from being built and instead favour single-family units. In a White House statement, the administration said "Exclusionary land use and zoning policies constrain land use, artificially inflate prices, perpetuate historical patterns of segregation, keep workers in lower productivity regions, and limit economic growth."
All of that is true. Increasing the housing stock puts downward pressure on prices and fosters economic growth. Research on zoning rules in the U.S. has shown that, by freezing workers out of high-rent areas like New York and San Jose where their productivity would be higher, local zoning rules lowered U.S. economic growth by fully 36 per cent between 1964 and 2009. There is no reason to assume similarly exclusionary zoning laws aren't having the same negative impact in Canada. Toronto, for example, has nearly 70 per cent of its land zoned exclusively for single-family homes, making it illegal to build anything with increased density.
Elevating the conversation and targeting zoning reform are things Justin Trudeau and Chrystia Freeland could have done in their last budget. Right now, only two Conservative leadership candidates are talking about zoning on the campaign trail, Scott Aitchison and Pierre Poilievre.

But lessons about zoning reform aren't just useful at the federal level. The U.S. offers plenty of examples of state and municipal legislators carrying out dramatic zoning reforms. In Oregon, for example, any land previously zoned exclusively for single-family homes can now, as of right, build a duplex on that site or even a four-unit dwelling if it is in a municipality larger than 25,000 people.

The same goes for Minneapolis, which abolished exclusionary zoning before the pandemic. The city now appears to be bucking the trend of rising rental prices. Rents for one- and two-bedroom units are actually lower in 2022 than they were in 2019. Some of that presumably can be chalked up to having made it easier to build for increased density.
Finally, the small town of Auburn, Maine, shows how local councilors can embrace "YIMBYism" (which stands for "Yes, in my backyard," as opposed than "Not in my backyard") to increase affordability. Auburn's Mayor Jason Levesque, originally elected in 2017, ran on a pro-development platform that gave voters in his town of 24,000 three options: drastically raise taxes, cut public services, or bring in new residents. Having chosen growth, Auburn plans to increase its housing stock by upwards of 25 per cent, gutting zoning rules and taking an "all of the above" view on housing types.
That type of bold ambition is exactly what is needed in Canada's major cities and the communities that surround them if we want to tackle rather than just talk about the affordability crisis. Nationally, average rents rose nine per cent in April compared to a year earlier. In Toronto and Vancouver, arguably the two Canadian cities most in need of increased density, rents rose 23 and 27 per cent, respectively. On the buying side, the national MLS benchmark price for a home was $882,000 in April, a 27 per cent increase year-over-year despite interest rate increases beginning to dampen demand.
Much of Canadian political culture is framed in opposition to what exists in the U.S. but on zoning reform, we should look southward and learn. It's time to build but exclusionary zoning is in the way.
Story by: Financial Post