The tricky business of repurposing Montreal's religious buildings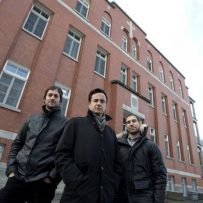 Story by: BERTRAND MAROTTE | The Globe and Mail
For some Montreal real estate developers, selling sanctuary can be hell.
In these secularizing times, Montreal's plentiful stock of centrally located religious buildings suitable for repurposing as condos or for other uses would appear to represent a Holy Grail of opportunity for developers. But a rising chorus of critics says too many promoters are eager to sacrifice this rich architectural, spiritual and community heritage on the altar of profit and materialism. And the risk of potential public uproar over proposals to "privatize" former houses of prayer or convents has caused at least one Montreal developer to shy away from the religious heritage sector altogether.
A striking case in point is the acrimonious fight over the fate of the former convent of the Soeurs des Saints Noms de Jésus et de Marie, located in a quiet, bucolic corner of the leafy borough of Outremont on Mount Royal's northern flank. The set-to highlights the passions that can arise when the future of an aging religious property is in the balance.
Olivier Leclerc, the president of Gestion M&O, has an agreement to buy the convent from the Université de Montréal and a $125-million plan to transform the imposing 81-year-old structure into luxury condo units. But his project was stalled for months in the face of robust opposition from a citizens' group whose members include law professor and former Bloc Québécois MP Daniel Turp.
The group, Rassemblement pour la sauvegarde du 1420, Mont-Royal, fought a legal battle – ultimately unsuccessful – to get the building's original institutional zoning classification restored, a move that would prevent its conversion to residential use.
"It's not the university's role to privatize the mountain. It's irresponsible," said University of Montreal professor emeritus of architecture Jean-Claude Marsan. The convent should be treasured as part of a "collective heritage" that belongs to everyone; putting up close to 200 luxury condos at the site is inappropriate, he added. The edifice would serve a far better purpose as additional space for the expanding university, which was the original intention, Mr. Marsan said.
Mr. Leclerc, 28, said he's sensitive to the concerns of preservation and heritage proponents but a condo project at this particular site makes perfect sense, especially given the university's decision to pursue its expansion plans at another Outremont location.
Key elements of the building will be preserved, including its chapel, the main entrance stairway and the façade, Mr. Leclerc said.
In another section of Outremont, Florent Moser of developer Demonfort Inc. is busy planning the conversion to condos of another convent – les Soeurs missionnaires de l'Immaculé-Conception.
His path has been smoother. The nuns liked the proposal submitted by Mr. Moser and his partners and there was close consultation with neighbours, locals, heritage groups and elected officials, he said. "You have to be patient" on these types of projects, Mr. Moser added.
But Jacques Vincent, co-president of developer Groupe Prével, said he now steers clear of projects involving religious structures after a few bad experiences. "That market has lots of pitfalls. There's always the risk of a public outcry," he said.
His 2004 proposal to build condos in a historic 19th-century Carmelite cloister on a magnificent wooded property in Montreal's Mile End district provoked a storm of controversy and he ended up withdrawing the project. The site is now a provincially designated historical monument.
The monastery's 7.6-metre-high fieldstone wall needed major repair work and there wasn't enough money to pay for such a huge undertaking at the time, said the prioress, Marie-Josée Gagnon. "We were in a corner" and a sale of the property seemed to be the way to go, she said. The monastery currently houses 15 nuns.
Benoît Cardin, finance administrator with the Catholic Church of Montreal, said the diocese is setting up a unit that will take a more active approach to the transformation of churches; the group will include real estate experts.
"We're going to try to be better managers of our religious heritage," he said. An example of an approach that might work would be a mixed-use project, with one section reserved for worship and another serving as a library, he said.
The diocese's parishes have sold 57 churches since 2001, he said.
Tom Balaban, the principal architect on a 2013 conversion to a spa/gym of the Saint-Jude church on busy St. Denis Street, said "it was a bit of a struggle to get [the project] realized.
"You have to get over the perception people have in the neighbourhood that this building is going to be something other than a religious space. Some people get their backs up over that."