The 'Switzerland of North America' Smashes Another Investing Record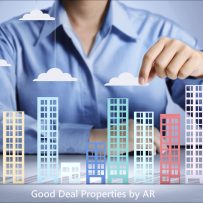 Canadian commercial-property investment is on track to break last year's record, according to CBRE Group Inc., driven by demand for a haven from global instability and a quest for yield.
CBRE forecasts transactions topping C$40 billion (US$31 billion) for 2017, up at least 15 percent from last year's record of C$34.7 billion, the real estate services firm said in a statement. Transactions for the fourth quarter haven't been accounted for yet, but investments for this year through September totaled C$33.1 billion, almost matching all of 2016.
Real estate no longer looks like an alternative asset class, Peter Senst, president of Canadian capital markets for CBRE, said in a phone interview. "When you look at relative returns, it stacks up very well against equities, infrastructure, bonds, so it's becoming more of an acceptable strategy to pursue," he said. "The deal sizes are getting bigger, the frequency and velocity for the deals getting out are becoming greater."
Demand for commercial assets in Canada's most populous cities, including Toronto and Vancouver, is sending prices soaring. The vacancy rates in these cities are among the lowest downtown office vacancy rates across North America. And foreign investors are taking notice. LaSalle Investment Management Inc. is targeting global investors for its biggest Canadian real estate fund with assets including offices and storage facilities, and has seen interest from countries including Germany, the U.K. and the Netherlands.
Canada's Top Five
The cities that drew the most commercial-property investment this year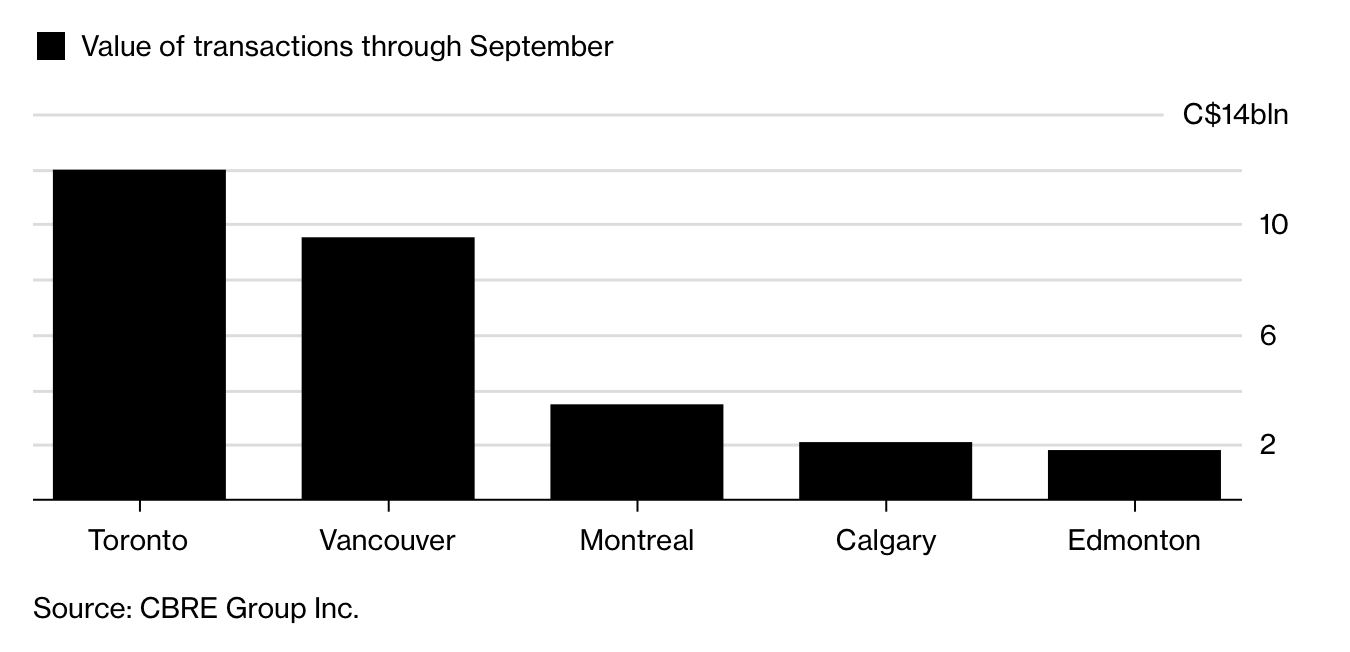 "The average availability rates for industrial assets in Canada is at a record low, and retail, despite the impact of e-commerce, continues to perform well," Senst said in a statement. "These solid market fundamentals are giving a greater number of investors confidence not only to bid on Canadian commercial real estate assets, but bid aggressively, which has led to sharp increases in asset prices."
In the U.S., commercial real estate transactions totaled US$339.5 billion for the first three quarters of 2017, down 4.3% from $355.1 billion in the same period of 2016, according to CBRE, which said the difference between the two markets is more about Canada's boom than any weakness south of the border.
Among the most active investors in Canadian commercial property are pension funds, so far accounting for 26 percent of all transactions above C$10 million, an 82 percent increase from the same period in 2016, according to CBRE. Foreign demand continues to soar for Canadian commercial investments, accounting for 15 percent of all transactions above C$10 million. One of the attractions for foreign investors is a soft Canadian dollar.
"There are a lot of reasons why groups want to come in — partly the dollar, partly the rule of law," Senst said. "We look like a relative safe haven. We're kind of like the Switzerland of North America."