THE SECRET BEHIND HALIFAX'S ABILITY TO BUILD PURPOSE-BUILT RENTAL HOUSING AT A RECORD PACE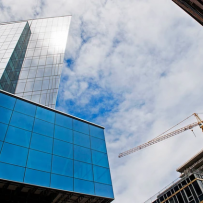 Since the early 1970s, purpose-built rental (PBR) housing construction has taken a backseat in Canada to the homeownership market comprising freehold and condominium housing.
Despite high rental demand, the construction of PBR housing has been less than adequate, even in populous cities such as Toronto and Montreal where rental housing is more pronounced.
Over the past two decades, rental housing starts accounted for fewer than 10 per cent of the new construction in places like Toronto and Ottawa. Yet, Halifax has defied this trend. Rental housing construction accounts for more than half of the new housing being built in Nova Scotia's capital. For instance, 63.4 per cent of the housing starts in Halifax during 2020 comprised rental dwellings.
Is there something in the water or, perhaps more likely, the regulatory framework, that allows Halifax to build rental housing when larger cities have struggled to do the same?
Of course, the fact that rental housing dominates residential construction in Halifax does not mean the city is free of housing challenges. Nor should one assume that any lessons drawn from a city of about 415,000 residents can be readily applied to ones 10 times as large.
Nevertheless, Halifax's housing initiatives deserve examination since we believe that restricting landlords to rent raises by a certain level, also known as vacancy decontrol, and the introduction of the capital gains tax have been instrumental in constraining the supply of rental housing.
John Dickie, president of the Canadian Federation of Apartment Associations, pointed out that "until recently, Nova Scotia did not have rent control at all for rental apartments." The exception was manufactured home lots. Vacancy decontrol was only introduced as a temporary measure in response to COVID-19.
The other factor supporting rental construction is that the demand for condominiums has been nominal in Nova Scotia. Unlike Toronto, where condominium construction dominates all other housing types, Halifax had almost no new condominium starts in 2019 and 2020.
The higher demand for rental housing is facilitated by housing prices, which have been relatively flat in Nova Scotia, at least they were until the onset of the pandemic. Demand for homeownership increases when housing prices rapidly rise, because prospective buyers try to get into the market sooner, believing that prices will rise even higher later. The average residential price in Nova Scotia remained below $250,000 until January 2020.
Halifax's demographics are also supportive of rental housing, including the modest increase in average household incomes over the years and the sizable share of higher-ed students in the local population.
Other small to medium-sized cities have similar socio-demographic trends, so Halifax's circumstances are not unique. But even though it might not be unique in consumer demographics, its development community boasts specific characteristics. For example, our conversations with planning experts revealed that builders of Greek and Lebanese origin actively building in the Halifax area prefer to develop and hold those properties rather than sell them as condominium builders do.Successive generations of builders have followed this business model and financed new rental developments using large portfolios of the income-generating properties built earlier. A former member of the Nova Scotia Affordable Housing Commission also observed that builders of Lebanese origin prefer constructing rental housing and holding properties over more extended periods.
These builder demographics are supported by large real estate investors partaking in the rental housing stock. For example, Canadian Apartment Properties REIT (CAPREIT) in February 2020 announced the acquisition of eight apartment buildings in Halifax that added 1,503 rental dwellings to its local portfolio, which now comprises some 3,100 rental suites. With an average occupancy rate north of 99 per cent in the eight buildings, CAPREIT has been capitalizing on the strong demand for rental housing.
The private sector has been active in building and financing rental housing construction, but the three tiers of government also need to act in unison to improve housing affordability. Although housing affordability is essentially a local matter, provincial and federal governments have a prominent role to play as well.For instance, the federal government in June 2021 announced a $115-million low-cost loan for the construction of a mixed-use building in Halifax that will have at least 76 dwellings with rents at or below 30 per cent of the local median household income. The support is part of the federal government's Rental Construction Finance Initiative to assist in constructing 71,000 rental units across Canada.
Halifax's success with rental housing construction demonstrates how public and private entities may collaborate to build sufficient rental housing in places where the demand for rental housing is high. An absence of rent controls in the past, supportive socio-demographics, and imaginative homebuilders and rental investors have been critical to resolving the rental housing challenges.
Story by: Financial Post