The real 'Manhattanization' of Toronto's housing market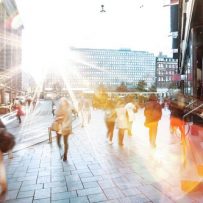 When people talk about the Manhattanization of Toronto, they usually mean the myriad new skyscrapers and exorbitant price points. But the term might actually have more to do with how people live than how much they pay.
New York has a relatively equal measure of renters to homeowners, but in Toronto the number skews heavily in favour of the latter. Yet with escalating pricing, there's an emergent cohort of renters that's only expected to grow.
Heidi Schweichler, a broker with REMAX West Realty, can attest to the trend: She sold her High Park house and started renting a condo downtown. While that works for her, she says tenants could be asked to move out of their rentals at any time, and that other options are needed, especially for empty-nesters who crave stability in retirement.
"If you build it, they will come," said Schweichler. "One reason they're not flocking to rentals is because the product isn't there yet. The problem with renting condos is we need more stability than renting for one or two years. Investors can sell their condos quickly, especially as their market value increases. Condos are too small and they target young professionals."
The Livmore, a purpose-built high-rise apartment building at Bay and Gerrard Sts. is one of the few developments actively addressing the dearth of rental accommodations. According to Vertica Resident Services, the property management company owned by Livmore's developer, GWL Realty Advisors, the 595-unit tower will be built with everything condos typically have, including amenities, but with higher quality materials. And while it won't solve the rental scarcity in the city, the hope is that it will get the ball rolling.
"We're definitely satisfying a need," said Todd Nishimura, Vertica's director of marketing and leasing. "There's very little supply in the city and demand is very high. We're meeting a need in this city for more inventory of any kind, and we decided to expand that supply on the higher end of the market. Supply is supply, and despite it being higher-end, there's a trickle down—or trickle up—effect."
Dunpar is building The Ossington, a luxury townhome project, just south of Davenport Rd., and like Livmore, it will be solely composed of rentals. However, that had more to do with fortuitous delays in the development's early stages than intent, but it nevertheless provided Dunpar the time it needed to reevaluate its plans and change course.
According to Michael DiPasquale, Dunpar's COO, there's been a noticeable trend in the local market lately to cash out and use the equity for both retirement and to rent. 
"There's a growing trend of selling and renting over the last few years, but especially the last number of months," said DiPasquale. "There's a mindset now where people want to rent and realize the flexibility that you can have with it, and now they can do that from the outset. Because of housing prices they might not necessarily have the deposits to go into a home, especially on top of rising interest rates and everything else."
The reintroduction of rent control in the Fair Housing Plan may put a spanner in the works of more purpose-built rental apartment buildings, but there's nary a doubt that developers have started tapping into a need—a need that existed in Manhattan, and one that's growing in Toronto.