The province expected to lead all others in 2017 home sales gains isn't Ontario or BC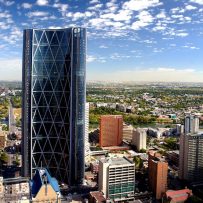 The Canadian Real Estate Association expects Alberta to post the biggest annual increase in home sales of any province this year.
The association, which represents about 100,000 real estate professionals and is among Canada's biggest single-industry trade groups, forecasts resale residential activity to jump 5 per cent this year compared to transactions recorded in 2016.
That would amount to a projected 54,800 home sales taking place on Albertan soil in 2017, up from last year's total of 52,169.
The projection is included in CREA's updated forecast for 2017 and 2018, published this week in tandem with its February monthly home sales figures.
Sluggish resale activity seen early last year in Alberta is largely responsible for the province's expected country-leading year-over-year growth.
"Much of that story is already in the rear-view mirror at this point," Gregory Klump, CREA's chief economist, tells BuzzBuzzNews.
The first quarter last year was "very quiet" for home sales in Alberta but this year's first three months are shaping up to be the best for demand since fall 2015, Klump tells BuzzBuzzNews.
"In January and February 2017 alone, there were more than 1,000 more sales in the province than there were in the same two [months] of 2016," he says.
"It is the difference in the first quarter numbers that form the biggest part of the annual sales increase," Klump states, noting that for the next three quarters the market's performance should be in line with what was observed in 2016.
CREA does not foresee the short-term upswing in sales pulling prices in the province any higher, however.
"The bigger picture for Alberta home prices has been (and is forecast to continue to be) one of stability," says Klump.
CREA's latest forecast calls for the average selling price of homes in Alberta to be $394,000 in 2017, roughly unchanged from the previous year.
Canada-wide, CREA predicts the average price of a home in 2017 will be $513,500, up 4.8 per cent from a year ago.
Over that same period, a total of 518,700 homes are expected to change hands, down 3 per cent from last year.
Ontario is expected to see the strongest appreciation in home values this year, with the average price projected to climb 15.6 per cent to $618,800.
The biggest price drop is anticipated for BC, where the average price of a home is expected to sink 6.5 per cent to $645,900 in 2017.
BC is also expected to see the largest decline in home sales. CREA predicts that realtors will record 92,600 residential transactions this year, a year-over-year decline of 17.5 per cent.
"In markets like Vancouver and Toronto, where single-family homes are in short supply and there are few affordable options, some buyers may find themselves priced out of the market entirely," writes CREA.