The Online Revolution: How Landlords Can Stay Relevant in a Digital Marketplace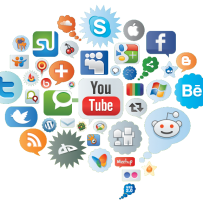 You've probably heard it all before – social media is the where the action is, being online is the best way to market yourself, you need to keep a finger on the pulse of the latest technology, and on it goes. Chances are, you already have a Facebook page and Twitter account for your property. But are you really using them to their full potential? Anyone can send out a Tweet or two each day, but it's the truly innovative who use social media to reach people like never before. Whether you want to work on creating brand loyalty or launch a social media campaign that will engage the online community and expand your reach like never before, it's time to up your online ante.
While creating a viral video a la Jimmy Kimmel is probably not the most feasible route to take, you can generate a buzz in different ways. After the Federation of Rental-Housing Providers of Ontario Job Expo in September, property management firm Greenwin Inc. launched a social media campaign to keep attendees talking well after the doors of the expo closed. The campaign, dubbed #MeetGreenwin, encouraged candidates to snap a photo of themselves in front of the Greenwin booth and share it on social media using the hashtag. "By asking attendees to engage with us online, it helped us gain exposure well beyond the event itself," says Greenwin CEO Kris Boyce. "Not only that, but it put our name at the top of the list for people looking for employment in the property management industry. Through the campaign, we were able to secure interviews with eight truly outstanding candidates."
Social media campaigns like #MeetGreenwin are easy to create and manage. If you want to create a similar campaign, keep it simple. Ask users to take only one or two steps to interact with you – any more and they are bound to lose interest. The most crucial part of a campaign like this, particularly if it's a contest, is to ask entrants to "Like" your Facebook page or to follow you on Twitter. After all, the goal of a campaign like this is not just to engage users and increase brand recognition, but to increase your overall fanbase online. "We asked #MeetGreenwin entrants to like our Facebook page when they sent us their photo," says Boyce. "During the contest period, we saw 16 new likes to our Facebook page. The online buzz generated also saw our followers on Twitter increase by 39."
Traditional methods of connecting with people online still apply today, albeit with a few caveats. On July 1, the Canadian government implemented the Anti-Spam Legislation to prevent companies from bombarding users with unsolicited e-mails. However, according to a recent poll by Hubspot, e-mails and newsletters are still a very useful part of any marketing campaign, with over 50% of respondents saying that they read all of their e-mails, regardless of what they are. "While it will take a little bit of initial legwork to ensure you are complying with the law, don't give up on e-mail marketing completely," says Sheryl Erenberg, Canada's leading real estate marketing expert. "It is a proven way to connect with people who may not be logging on to Facebook or Twitter every day to see what you're up to."
When it comes to designing your e-mail marketing campaigns, the less words, the better. According to Hubspot, 65% of people prefer to receive e-mails that contain mostly pictures. For property managers, this is a perfect opportunity to show off the inside of your suites or amenities that you are particularly proud of. "Keep your wording short, witty and to the point," says Erenberg. "A wall of text is a sure way to get your e-mail sent directly into the trash bin. After all the work you put into it, you want to make sure it captures the attention of your readers."
To comply with the new CASL laws, you'll need to ensure you have the consent of each recipient before you send out your marketing campaigns and newsletters. To do this, you can create a simple consent e-mail through a service such as MailChimp. It's recommended to visit the CASL website to get further information on compliance.
The online world is constantly changing, and you can change with it. Keep your social media campaigns and newsletters fresh and engaging. Show the world what your brand is all about. It's never been easier or more fun to let your creativity shine online!
Story by: The RentSeeker.ca Team