The long-anticipated soft landing for Canada's housing market is here, says Royal LePage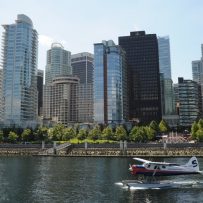 Story by: Michael Aynsley  |  BuzzBuzzHome
Canada's housing market is currently experiencing a "soft landing," according to one of the country's largest real estate brokerages.
In their first quarter house price survey, Royal LePage says the market is seeing slower than normal price growth, although the average price rose between 3.8 per cent and 6.6 per cent year-over-year in the first three months of 2015. The national trend was obscured, the real estate group says, by significant price gains in Toronto and Vancouver.
When broken down by housing type, the survey showed a year-over-year price increase of 5.3 per cent to $451,463 for two-storey homes, a 6.6 per cent increase to $405,895 for detached bungalows, and a 3.8 per cent gain to $261,782 for condos.
Royal LePage said two unanticipated factors disrupted the natural housing cycle: the steep decline in oil prices late in 2014 and the Bank of Canada's subsequent reaction in lowering the overnight rate early in 2015.
"With these factors combined, we have a soft-landing for housing after several years of robust expansion," said Royal LePage president Phil Soper in a release. "We define a soft-landing as a market in which home prices are flat or increasing slightly, giving the economy and family incomes, a chance to catch up."
"In terms of downside risk, we do not foresee a sharp decline in home prices, particularly in today's low interest rate environment," Soper continued.
Regionally, ongoing economic turmoil in Calgary has pushed the city out of the top three fastest appreciating housing markets into a more moderate zone of below national average price increases. Toronto and Vancouver, meanwhile, posted at or near double-digit year-over-year price increases across all housing types surveyed.
"What's essential to note is that Canada is a market of markets, each responding to a combination of local and national factors, where there are even notable differences in market activity between housing types and segments within the same vicinity," said Soper.